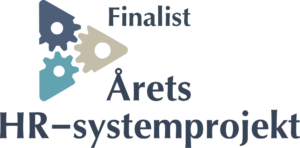 Sabis employs 600 people and runs five convenience stores, five hotels with meeting facilities, 12 cafés and 25 restaurants, including those at Carnegie, Skandia and the Swedish Parliament.
Sabis chose Sympa for its wide range of tools, the ease with which it can be adapted to the needs of any organisation and its user-friendliness. "The best system in the world is useless if no one is comfortable working with it," says Helene Pellvik, HR Partner at Sabis and one of those responsible for choosing and implementing Sympa.
The project with Sabis was notable for the close working relationship formed by Sympa with both Sabis' IT and HR departments. Following the project's completion, Sabis' IT project manager Patrick Thörnlund concluded that; "Working with Sympa has been a great experience, together we make a strong team."
Sympa won in 2019 for a project with the property developer Ikano Bostad. Judges described that collaboration as; "an example of a successful implementation project, filled with unusual joy and a strong focus in a well-structured project, characterized by transparency, acknowledgment, hard work and a tight partnership between the customer and the supplier."
The final will be held between October 20-23 and the winner will be announced on November 24th by Herbert & Nathan.