THE STORY BEHIND SYMPA
We smooth the way to a better world of work.
OUR STORY
WHERE WE COME FROM
Sympa was founded in 2005 by two siblings, Keijo and Taina. They firmly believed that companies would benefit if they were more informed about their people's skills and talent and they started to develop the perfect tool. Soon the idea grew into a desire to build a complete HR solution.
Explore the solution
Sympa Today
OUR CUSTOMERS MEAN THE WORLD TO US
Customers are at the heart of our business. Having overwhelmingly happy customers is the reason why Sympa is now the fastest growing HR service provider in the Nordics with more than 200 employees across nine offices in seven countries. The software itself is used in more than 100 countries and is available in 22 languages.
Our customers
CORNERSTONES OF OUR CULTURE
SYMPA'S CULTURE
We think that Sympa is a unique and special place to work. This stems from the culture we cherish, the values we uphold and our shared sense of purpose that gives us a common direction. We lean on accountability, collaboration, innovation, and continuous improvement in achieving our goals.
Our collective purpose as Sympaticans goes beyond the product we offer or the services we provide. It's about the impact we have on our customers, our communities, and the HR industry as a whole. It's about making a meaningful difference in people's lives.
ENVIRONMENTAL SUSTAINABILITY
SYMPA'S ENVIRONMENTAL POLICY
At Sympa we are committed to making environmental sustainability an integral and fundamental part of our business, and our goal is to promote sustainability and environmental awareness at all levels of the company.
We have created this policy to continually improve and monitor our environmental performance by outlining our commitments and goals and setting clear targets.
Read Sympa's Environmental Policy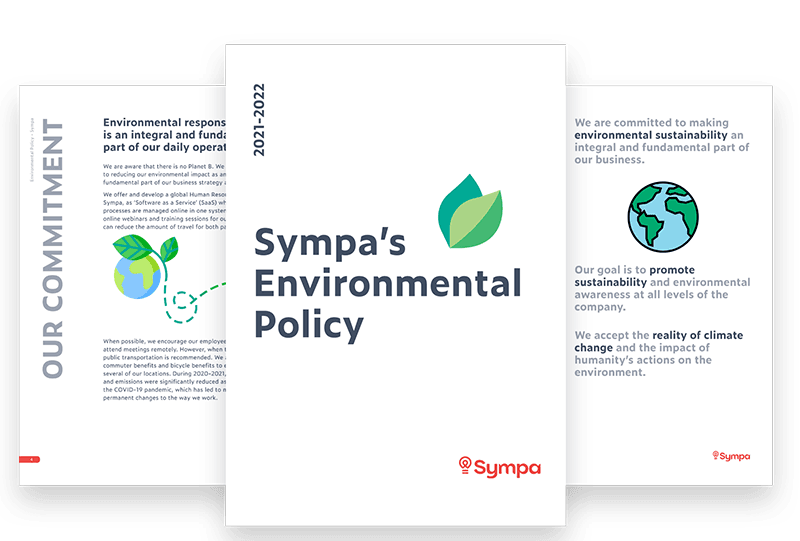 Sympa short and sweet
22
available languages
1000+
customers
200+
employees