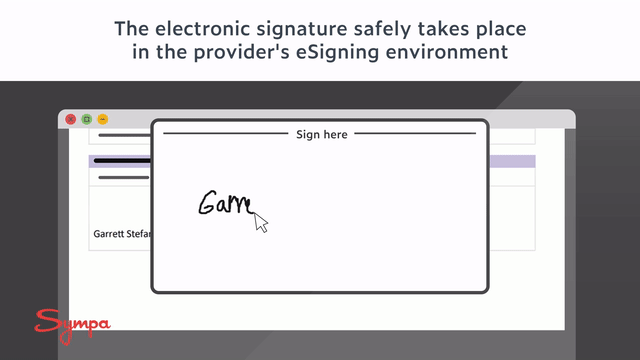 Sympa has become the first HR technology company to work with two leading global eSignature providers DocuSign and Scrive, in order to deliver completely digital HR processes.
By partnering with Scrive and DocuSign, Sympa will give companies of all sizes the ability to implement eSignature capabilities at a price point and feature level that suits them best.
"We're both truly digitalising HR and providing a premium experience to the user," says Sympa CEO Keijo Karjalainen. "eSignatures remove the last obstacle to fast, smooth, digital HR: the time-consuming need to constantly send papers and files to different people so they can be processed.
"In an age where your next employee may be in Bangalore or Bogotá, eSignatures dramatically speed up the process of getting a new hire in place. Also, today's workforce of digi-natives is increasingly comfortable with fully digital solutions. Quaint, analogue practices (such as postage stamps) are starting to look archaic," he concluded.
eSignatures offer a secure, legally-binding, digital alternative to the traditional pen and ink signatures that give digital documents legal standing, such as employment contracts. By partnering with Scrive and DocuSign, Sympa lets companies operate paper-free HR processes, approve documents in minutes instead of hours, improve HR data handling accuracy, and remove the need to handle vast archives of documentation.
"We are excited about having a partner like Sympa," says Scrive CEO Viktor Wrede. "Sympa's vision of offering fully-digitalised HR processes conveniently, efficiently and securely aligns perfectly with Scrive's mission. Customers doing business in Northern Europe can rely on Scrive's robust data privacy protections and suite of eIDs for the Nordics, Benelux and Germany."
"We are truly excited about this partnership," says DocuSign Partner Success Manager, Daniela Honcu. "Our partnership with Sympa will bring modern HR technology opportunities to over 700 organisations every week. eSignature is an essential part of modern HR, and through Sympa's HR solution, we can help hundreds of thousands of people work smarter, quicker, and easier."
Founded in 2005 in Finland, family-owned Sympa helps organisations nurture the development of their employees, operate more efficiently, and make smarter strategic decisions through its range of fully digital HR solutions. With one of the highest customer satisfaction rates in HR technology in Europe, Sympa is also the fastest growing HR solution provider in the Nordics. Currently, more than 700 organisations around the world use Sympa to power their HR operations.
About Scrive
Founded in 2010, Scrive quickly became the Nordic market leader for electronic signature solutions. Today customers in over 30 countries, and their signers in over 190 countries, use Scrive's omnichannel eSign service to formalise documents on any device. As an innovator in digital transaction solutions, Scrive prides itself on exceptional user experience, the world's strongest legal evidence to protect each signature, and a growing suite of tools to both validate and streamline digital workflows. For additional information, please visit www.scrive.com
About DocuSign
DocuSign helps organizations connect and automate how they prepare, sign, act on, and manage agreements. As part of the DocuSign Agreement Cloud, DocuSign offers eSignature: the world's #1 way to sign electronically on practically any device, from almost anywhere, at any time. Today, more than 475,000 customers and hundreds of millions of users in over 180 countries use DocuSign to accelerate the process of doing business and to simplify people's lives. For additional information, please visit www.docusign.com
About Sympa
Sympa is a complete, fully-customisable HR solution that lets you focus on people and smart decision-making. It provides companies with a clear, aggregated, view of all their people data, a trusted tool for automating a wide range of everyday HR tasks and unlimited integrations to other software. Backed up with great customer support, it's currently used by more than 1000 organisations and has one of the highest customer satisfaction rates enjoyed by any HR technology available in Europe. For additional information, please visit www.sympa.com