A HANDBOOK FOR HR PROFESSIONALS
INTRODUCTION:
READ THIS EBOOK AND BECOME
AN APPRAISAL EXPERT
Businesses succeed or fail because of their people – the most important resource a business has. Once you've found and hired the right people, you naturally want them to thrive. One of the most important factors in well-being at work is the employee/manager relationship. In a frequently quoted Gallup study workers were asked why they left their jobs.
In 75% of the cases the interviewees answered that the reasons for leaving were ones that could be influenced by their managers. Appraisals should provide time for the employee and the manager to sit down and have a constructive conversation. The time spent itself is valuable as long as both parties are committed and seriously interested in developing themselves and their relationship.
75% of the cases the interviewees answered that the reasons for leaving were ones that could be influenced by their managers.
WHAT'S THE SITUATION LIKE IN YOUR BUSINESS?
Do you know how well appraisals are run in your organisation? If you know and trust that everything is working brilliantly – well done! In case you're not absolutely sure how appraisals are going and whether the results are reported accurately, this book should prove useful. We designed this eBook as guidance for HR personnel looking for ways to support managers in running better appraisals.
As we recognise the importance of good leadership, we also wanted to support managers in running appraisals and included tips for them as well. The book provides actionable advice on how to organise appraisals on an individual and company level. The end goal is to improve the well-being and productivity of your people. And that's why appraisals matter.

CHAPTER 1:
APPRAISALS AS A TOOL FOR BUILDING MOTIVATION AND ENGAGING EMPLOYEES AND MANAGERS ALIKE
Every modern organisation is interested in the performance of their employees and typically runs appraisals in some form to support and develop performance. Normally, the frequency of appraisals is low: according to a survey carried out by the Society for Human Resource Management, 72% of businesses run appraisals only once a year.
In the same study, only 2% of employees gave their company the highest grade for performance management. In general, employees are not happy with how organisations are managing performance development and assessment. That dissatisfaction can be tackled though. Another study showed that those employees, whose managers held regular meetings, are three times more likely to be satisfied with their jobs.
READING TIP: SUCCEEDING WITH APPRAISALS ONLINE
In a world where remote working has increased and many teams are scattered over different locations, how can you ensure that online appraisals are as successful as face-to-face discussions? Read our five top tips on how to succeed with the online format in our latest blog post.
APPRAISALS HELP YOU MAINTAIN A GOOD EMPLOYEE-MANAGER RELATIONSHIP
The prerequisite to a great appraisal is a manager who is interested in the well-being of their team members i.e. a manager who is engaged and forward-looking. Great appraisals help deepen the relationships between your employees and managers. Like all tools, it takes a little practice to use appraisals correctly.
The goal of an appraisal is for the employee and manager to have an open discussion. Both parties should feel confident and positive about sharing and receiving feedback.

The goal for every appraisal should be that your people feel positive about their development, know the areas where they need to develop, and have visibility regarding the necessary steps to take in order to advance their careers – if that's want they want.
In practice though, managers often look for structure for their discussions. Structured questions and forms – which we will discuss in more detail later on – also benefit organisations, as they provide much needed data to support decisions regarding strategy, training, recruitment and investments. A good HR system enables you to move smoothly between individual, team and company levels to for example compare skills and development between different teams and possibly even enable predictive analytics and strategic planning.
Data collection should however always be a secondary goal. Your main goal is a thriving and productive organisation. This is achieved by improving employee-manager relationships.
WHAT ELSE CAN YOU EXPECT TO GAIN
FROM A SYSTEMATIC APPRAISALS APPROACH?
INCREASED MOTIVATION
By organising forward-looking appraisals, managers help their team members identify career paths as well as develop their skills and strengths in order to take the next career step.
SENSE OF PROGRESSION
Setting goals and monitoring them in the long-term provides structure and visibility into an individual's career. Being able to see and track your own career progression and skill development helps in staying motivated.
ORGANISATIONAL INSIGHTS
Appraisals can be used to identify why some teams are working better than others. Is there something in the behaviour or ways of working other teams could learn from? Appraisals also help assess whether your organisation has the necessary skills to execute the chosen business strategy.
ALIGNMENT WITH STRATEGY
Appraisals are an excellent opportunity to ensure that people see their own work in light of the organisation's overall strategy. Transparency and motivation increase as people learn to connect their individual goals with the company's overall targets. Now we know why appraisals should matter in your organisation. So why not have a look at how to organise a successful appraisal next?

CHAPTER 2:
THE BUILDING BLOCKS OF A GOOD APPRAISAL
In this brief chapter, we'll look at the formula behind a superb appraisal, as keeping the criteria in mind helps in planning a process where the criteria are met. Keeping these five building blocks in mind, let's look at how you can build an appraisal process for your organisation.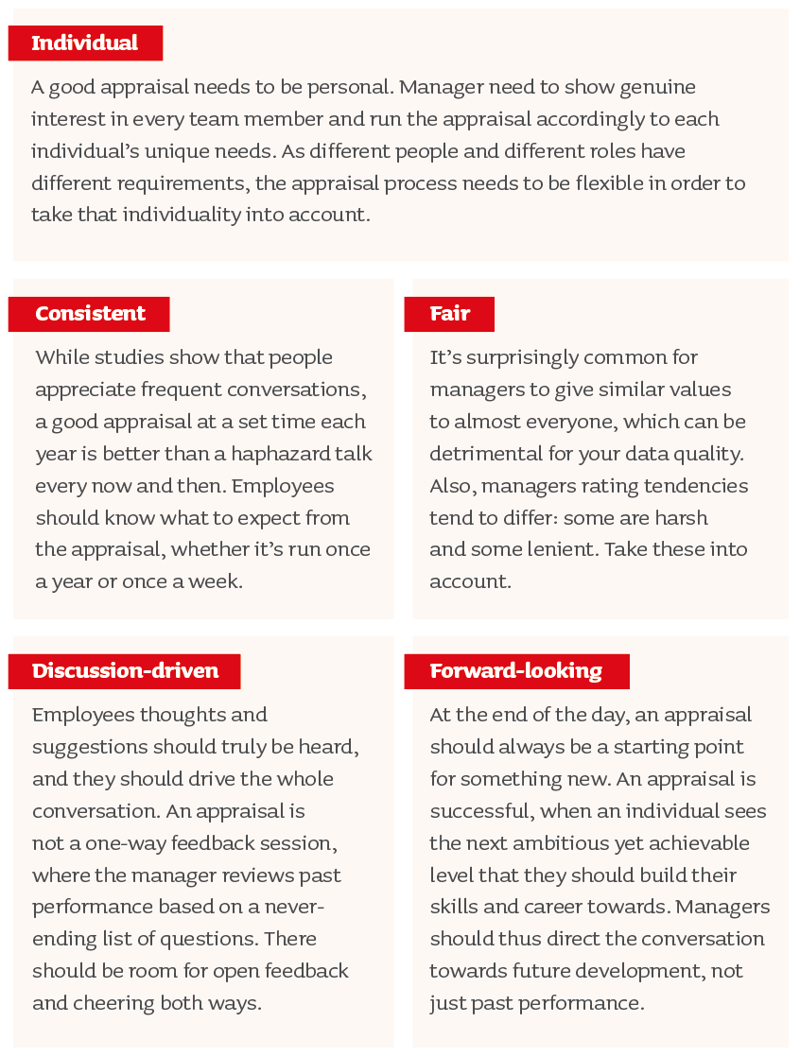 CHAPTER 3:
HOW TO BUILD A SUCCESSFUL APPRAISAL PROCESS
While every appraisal is different, we listed the most crucial steps to
organise a strategic appraisal process for your organisation.
STEP 1: ANALYSE THE CURRENT STATE
Before setting up or modifying an appraisal process, it's important to know where your organisation is right now.

There are a few ways to uncover this information. If your organisation is using an HR system, see what kind of data has been collected in it. If you do not have one, ask your managers and employees.
STEP 2: TROUBLE SHOOT. REPEAT.
Your planning will naturally depend on the findings of your current state analysis. The key question to ask yourself is how can I improve the relationships between managers and employees in my organisation? What kind of support can you give to managers and employees?
SOME TYPICAL PROBLEMS AND QUICK SOLUTIONS
THE SATISFACTION RATING OF YOUR APPRAISALS IS LOW.
If this is the case, you should quickly determine why. Is it timing, structure or incompatibility between employees and managers? Does your process take into account individual differences between employees? Do employees have enough say in the conversations? Do they feel that they can really have a say in their work?
Compare data: are there some groups that are more satisfied than others. What are they doing differently? Whatever answers you find, remember to follow-up on whether your changes worked.'
YOUR MANAGERS ARE NOT ORGANISING APPRAISALS OFTEN ENOUGH.
Educate your managers and offer alternatives to lengthy annual appraisals. Show them the benefits of a good appraisal: what ́s in it for them and how does it help their work? See whether a manager has too many team members. Set up a process for sending reminders and follow-ups.
YOU ARE NOT GETTING ENOUGH USEFUL OVERALL INFORMATION FROM THE APPRAISALS.
Redesign your appraisal form and educate managers on how to use it correctly. Provide a clear definition of what each score indicates. More information on the appraisal form can be found in chapter 4. However, if people are generally satisfied with appraisals, you should be careful not to break them with a rigid form.
Now that your process is clear, let's have a look at what kind of data you can get from appraisals to help in decision-making.

CHAPTER 4:
USE APPRAISAL DATA TO SUPPORT MANAGERS
AND BUSINESS DECISION MAKERS
Though all organisations are different, studies indicate that the topperforming teams share some universal features. For example, a Gallup study showed that teams with employees strongly agreeing with the statement "At work, I have the opportunity to do what I do best every day" were 44% more likely to earn high customer satisfaction scores, 50% more likely to have low employee turnover, and 38% more likely to be productive. Uncovering what separates your best performing teams and people is easier if your appraisals are designed to collect unified data. You don't need a long list of questions for this. In fact, just three to six questions or statements might be enough.
THE PERSON'S STRENGTHS
The majority of the discussions should be around the person's strengths. How are they able to utilise their strengths in their work? How can they further develop their strengths? If this is the first appraisal, you might start with a listing of their strengths.
GOALS FOR THE FUTURE
Next, the idea is to set objectives or goals. What should the persons try to achieve in a set period of time? The objectives should be tangible: in the next appraisal you need to able to clearly determine whether the objective was met or not. It's also a good idea to discuss how the objectives are related to the company's overall goals.
ACTION POINTS
Action points should be tied to these objectives. What are the actions required to reach each objective? Perhaps the person needs a need project or some additional training? Each objective is likely to have more than one action point. Note that an action point can also be to stop doing something that they are currently doing. What are the first steps?
OUTCOMES
Finally, you'll want to know about the outcomes. Were the objectives met and if yes, what were the results? What does success look like?
Remember that your overall goal is to engage the team leader and employee in an honest and productive discussion. Do not restrict this conversation with a lengthy, rigid form that team leaders are forced to follow.
HOW TO BUILD YOUR OWN APPRAISAL TEMPLATE
FOR DATA COLLECTION
To form an overall analysis of the well-being of your teams, people and business, it's good to have structured data collected from multiple-choice questions. Ultimately, you should formulate the questions based on the information your business needs. Here are some tried and tested statements that should be helpful in assessing the state of your organisation. As said before, there's no need to include all of these questions. Feel free to pick the ones that work for you.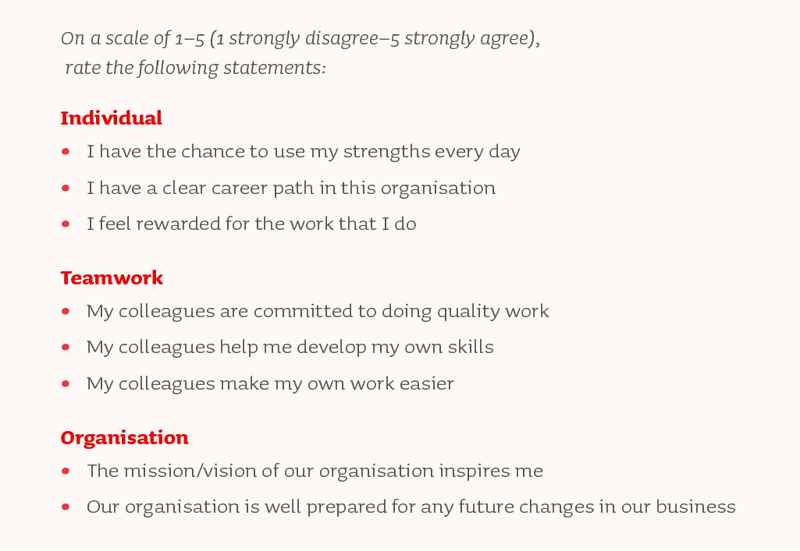 And that's it. Your appraisal form doesn't have to be any more complex than this, as these questions will already provide plenty of data and your form will not hinder the free flow between manager and employee.
Rating people has no value itself. It's ultimately all about giving and receiving feedback.

CHAPTER 5:
THE DEBATE BETWEEN AGILE AND
TRADITIONAL APPRAISALS
As was mentioned in chapter one, 72 % of businesses hold appraisals only once a year. This long-term approach has its benefits: planning is easier, and the process is clear and predictable. Typically, goals are set at the beginning of the year and progress evaluated a year later. The problem with an annual evaluation is that as studies indicate, people are actually quite unreliable at assessing the performance of others. An annual appraisal is therefore a surprisingly unreliable source of assessing performance. Over the last decade or so, more and more companies have moved towards an agile performance appraisal culture. Agile appraisals typically stand for appraisals held at frequent intervals. In some cases, discussions can even be held weekly, where the length of a conversation is typically a lot shorter than 30 minutes.
Thinking about agility? Start small: maybe with just one team and see how it works.
WHAT CAN YOU EXPECT TO BENEFIT FROM
AGILE PERFORMANCE APPRAISALS?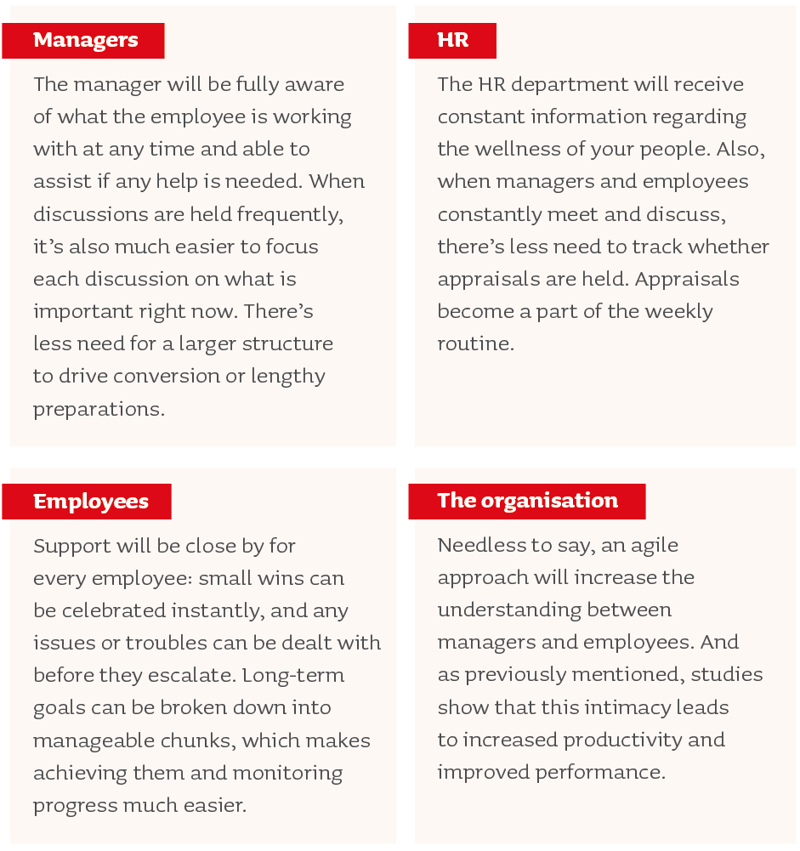 CONCLUSION:
USE APPRAISALS TO INCREASE UNDERSTANDING BETWEEN MANAGERS AND TEAM MEMBERS
In order to maximise the well-being and performance of your people, it's good to review how appraisals are run in your organisation and compare that with other successful organisations. The main lesson to learn from large organisational studies is that the closer the relationship between managers and employees, the better the organisation performs. They also indicate that short check-ins improve and deepen the relationship between managers and their team members rather than lengthy and rare discussions.
It takes time to build a culture where team leaders and their team members are constantly sharing feedback but that really is the best way to keep your people involved and engaged. After all, appraisals help in finding what your people are best at, focusing their work towards fully using their strengths and helping them improve their skills.

CHECK OUT ALSO OUR TEMPLATE FOR APPRAISALS
We have additionally prepared a template for you to use in your appraisals with concrete steps and tables. It can also work as a tool for your entire organisation to streamline the appraisals process and have a head start on HR analytics.