Agile management in HR connotes the prioritisation of flexibility and adaptability, as well as employee motivation and engagement. In this post, we discuss what it entails to implement agile performance management or agile performance support.
The agile approach is typically associated with software development but has also begun to lend its usefulness to HR and other fields. The implementation of Agile in HR practices has allowed the approach to make HR processes more flexible, dynamic, and human.
Agile management in the context of HR connotes the prioritisation of flexibility and adaptability, as well as employee motivation and engagement. In this blog post, we discuss what it entails to implement agile performance management or agile performance support.
Agile management also borrows from change management to give way to a cross between the two approaches. In brief, change management is concerned with how teams and organisations respond to change, particularly changes brought about by an agile-type approach. We'll discuss more of this later in the agile performance support section.
So, what sets agile performance management from, let's say, traditional performance management?
For starters, the agile approach is typically more dynamic than traditional top-down alternatives. Agile management also relies heavily on in-house talent and focuses on strengthening employee relationships.
Akin to how agile works within software development teams, agile in the HR context likewise sees teams working seamlessly as units that carry out the planning, analysis, execution, and documentation of various projects. Creativity and new ways of thinking are also welcomed, especially if they usher in new and better ways of working.
How does the agile approach benefit HR?
The agile methodology's flexible and dynamic approach can benefit today's HR teams in many ways:
Better focus and collaboration
The agile methodology's fast-paced approach promotes better focus because teams are assigned individual projects to work on, from start to finish. This team-based, non-hierarchical approach promotes better efficiency by supporting collaboration among several experts and team members.
As such, executives and managers are more involved in a hands-on model by working as active coaches and mentors instead of distant supervisors and overseers. Team members' insights are likewise equally valued under the assumption that each person can contribute something helpful to the project.
This allows for a more collaborative environment that, in turn, makes room for creative solutions, as teams are not bogged down by rank and traditional processes.
Open atmosphere
Alongside the demand for agility and flexibility is the need for team members to be more open and honest with each other regarding feedback regularly. Traditional models would typically encourage employees to wait for 'the right venues' to air out their concerns, such as annual appraisals or annual performance reviews.
Agile, however, encourages team members and leaders to be more open to giving and receiving feedback and criticism for the betterment of the project, leading to a healthier work environment (and fewer obstacles in the long run).
It allows teams to address issues and concerns more quickly to better address the needs of the project. This includes things like workload, timelines, deliverables, and processes, among others.
Systems of engagement over systems of record
One of the most important changes in HR is the adoption of systems of engagement over systems of record.
Since agile favours more people-focused solutions, it follows that tech solutions should likewise focus on things such as collaboration and info-sharing.
Systems of Record: more process-oriented and helpful in areas like finance and manufacturing, due to the amount of data gathered through them. It could also be helpful in HR, but it lacks the people component connected with people analytics.
Systems of Engagement: more people-oriented, designed to foster partnership, interaction, and productivity by providing stakeholders with the right tools for business (Typically harnesses tech solutions like cloud and big data, as well as social and mobile solutions).
In short, systems of engagement help HR see gaps in training and management so that they can address them quickly and effectively.
Traditional performance management vs. agile performance management
What is the difference between traditional performance management and Agile Performance Management? We give you a summary:
| | | |
| --- | --- | --- |
| Based on a hierarchical structure | vs | Based on a collaborative structure |
| Focus on appraisal | vs | Focus on development and performance |
| Annual development discussion | vs | Regular check-ins |
| Lack of recognition | vs | Social recognition |
| Goals set at the start of the year | vs | Goals adapt to changing business priorities |
| Minimum feedback | vs | Regular feedback |
| Training courses | vs | Coaching and just-in-time learning |
| Limited scope | vs | Crowdsourcing |
Top-down organisational structure vs. flat organisational structure
Top-down organisational structures are on the decline.
Nowadays, modern organisations choose a flat structure instead. The agile approach promotes working in small teams to stay flexible and create innovative solutions. An organisation's true value lies in its talented employees. That is why agile performance management focuses on developing knowledge, skills and performance instead of appraisals.
A flexible HR system is a perfect tool to assist HR Managers in this process. It offers immediate insight into the development of talented employees and allows centralised storage of the latest information. An HR system can be consulted at any time and anywhere and encourages quick decision making.
How to implement agile performance management
When implementing a process such as agile performance management or agile performance support, it is paramount to use a quality change management approach.
We have listed various key actions to take into account before, during, and after the process.
Set powerful goals, or know your targets
Reaching your goals in an effective and efficient manner is only possible when you have a clear-cut idea of where it is you want to go. Before you start the process, define your ​​Key Performance Indicators (KPI's) when implementing agile performance support.
Prepare and focus on personnel development
Decide which of the aspects of agile performance management can help you reach your goals. Instead of choosing every single one of them, it might be wise to discuss the most suitable options with your stakeholders.
Once you have made a list, decide which team leaders and employees can implement these aspects. Make your choice based on accurate data (The right HR system can provide you with all the information you need).
Focus on personnel development:
How can you best support managers and employees to perform optimally?
Which type of coaching and just-in-time learning will provide the best development opportunities and keep them motivated in the future?
What are their career aspirations, and how can you align their growth with that of the organisation?
Ensure efficient employee records management
Now it is time to consult your HR system again and browse through your employee records and HR metrics. Try making a list of the various stakeholders across teams and levels in your organisation.
Ask yourself how to get all parties motivated and find the right role for them in the implementation process. For a successful implementation, all key players – managers and employees alike – need to share a similar vision and work towards the same goals.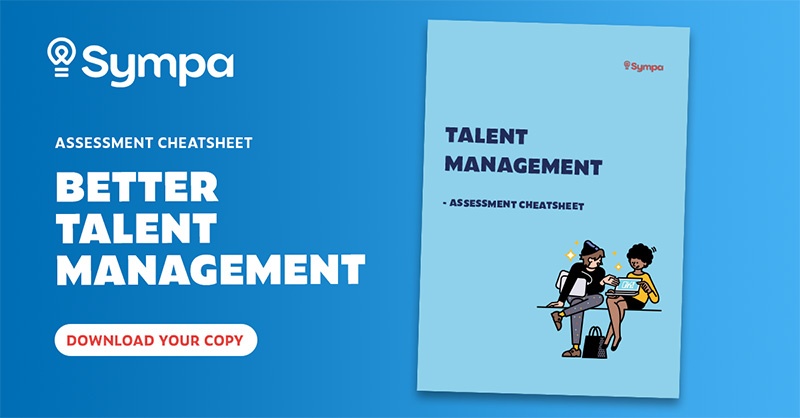 A step-by-step guide for implementing agile performance support
Which elements are crucial when starting a process such as agile performance management or agile performance support? Here are some important elements to consider before, during, and after the process:
1. Clear communication is key in successful change management
Quality change management is all about gaining overall support.
Getting the organisation — or at least its key players — on board and keeping them motivated requires clear communications and transparent actions. Taking the time to explain why this change is inevitable will help your organisation successfully reach its goals.
Top tip: Communicating the short- and long-term benefits for your organisation will inspire managers as well as employees.
After having convinced many of your key players, it is time to discuss practicalities. Be precise on what needs to be done, when and by whom. Giving clear instructions will pave the way to success.
2. Using agile performance support to motivate your people
Here's where our term 'performance support' kicks in again. In agile performance management, team leaders act as coaches rather than as supervisors. In turn, you can support these team leaders by offering training on giving feedback, writing quality reports, or organising regular check-ins with employees.
3. The importance of implementation aftercare, using hr reporting
After having reached your goals, make sure to complete an implementation review. Note that your HR reports can come in handy here.
A comprehensive review will iron out any issues that might occur during current and future processes. It pays off to put as much focus on the process' aftercare as you did on the implementation's previous steps. Just remember, practice makes perfect.
So, ready to become more agile?
You now know everything you should know about agile performance management. If you'd like to learn more about implementing the above at your organisation, don't be shy and get in touch.