As the involvement of HR is growing in most organisations, so are HR's roles and responsibilities.
HR teams are now expected to train employees, be on top of recruitment activities, onboard and offboard employees, manage internal communications, manage employee benefits, support line managers with all sorts of people-related questions, etc. And the list goes on.
In other words, HR professionals have a lot on their hands.
What's more, HR teams need to be able to measure the ROI of their operations. To get there, they need a bit of help.
They need technology and IT knowledge.
Fortunately, most HR teams already use various tools to run their operations and provide employees with structure and thorough processes. Now, we firmly believe that, for an HR department to deliver its best work, it needs to work hand in hand with IT.
In this blog post, we give you three reasons why IT and HR should work hand in hand.
Combine your expertise and see the bigger picture
You can't know everything. And it's OK!
HR professionals are expected to be knowledgeable about HR topics. And your colleagues in IT are expected to be on top of IT-related matters. As the two worlds collide, so should the expertise.
HR personnel should rely on IT's expertise to get an overview of the state of HR tech, system life expectancy, and integrability. This understanding should provide HR with a solid background to work from and ideate processes.
On the other hand, HR understands the needs and wishes of the staff. Building a functioning HR system requires the IT department to fully grasp that picture to set boundaries, define what's possible and what's not.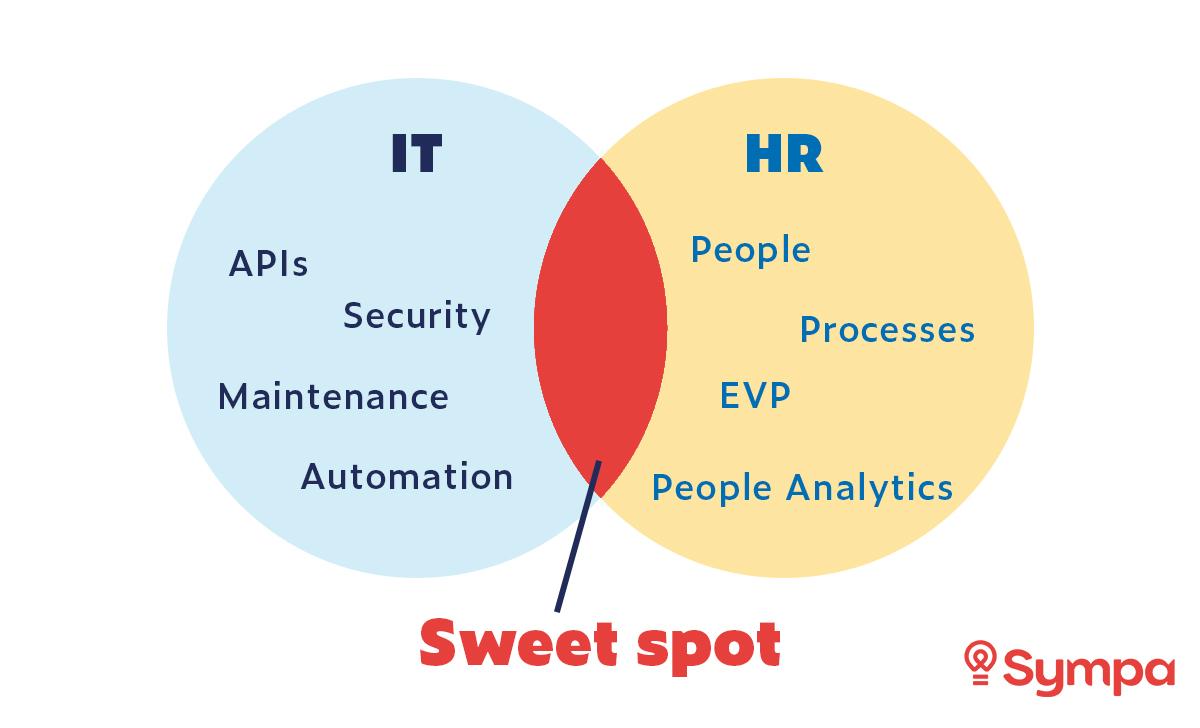 Buy and implement an HR system the right way.
Once implemented, an HR system becomes the heartbeat of an organisation. Everything that happens in relation to people goes through that one system.
However, implementing an HR system is heavy work and is complex. The process of buying and implementing an HR system requires careful and timely planning both from the admin users (HR) and technical (IT) points of view.
What's more, joint reflection leaves more room for realistic procurement planning and scheduling, considering the schedules of other system projects in the rest of the organisation, thus avoiding lengthier implementation times and, therefore, extra costs.
We see with our customers that when HR and IT work together during the implementation phase, the collaboration continues even after the implementation project and becomes a routine.
Build a secure people data ecosystem
You need to protect personal and sensitive employee data.
If we've learned something from countless software hacks in the past decades, it's that whatever is coded can be breached. Your job is to do everything in your power to limit external threats.
As you implement and update your HR data ecosystem, IT's involvement is a necessity. Only they will have the knowledge and expertise to run smooth integrations, and only they will be able to evaluate the security levels or even GDPR compliance of said integrations.
Read: IT will ensure that you only integrate highly secure tools to your HR system to limit the risks of security breaches.
Automate redundant HR processes
If you are already using multiple HR solutions, there's a chance that you are duplicating part of your work – and duplication leaves more room for potential mistakes. And, if not duplicating your work, you're most likely spending a lot of time jumping from one tool to the other to get information and ensure continuity.
With the help of your IT team, you could create automated workflows that would activate based on a defined series of actions.
For instance, something that we often see among our customers is on and offboarding workflows.
Drastically improve employee on and offboarding.
"Scratch my back, and I'll scratch yours!"
Another good reason for a close co-operation between HR and IT is to ensure that an HR system can also be of value for your IT department. One of the best examples of how an HR system can cater to the needs of both HR and IT is Employee Identity Management (IdM) and Identify Access Management (IAM).
It can be handy during the employee onboarding and offboarding phases.
You need to follow dozens of crucial steps to ensure that new employees have everything they need to start working from day one and that you don't keep ties with employees on their way toward new adventures.
One way to do this is to build workflows and automate notifications for both HR and IT.
Here's an example of a workflow you could set up using Sympa.
When a new employee is about to join the company, you could automatically assign the following tasks as soon as you receive a signed contract:
Create credentials and manage access rights for them to access all the necessary tools.
Set up an email for a new employee right after they were added to the HR system.
Order and configure work tools for employees to be operational ASAP.
Deal with payroll information to ensure a stress-free beginning for the employee.
Having HR and IT working together to build processes will make everyone's job easier and less stressful.
On the one hand, HR professionals will be able to run smooth operations, and, on the other, you'll save your IT team from last-minute requests every time you hire someone new.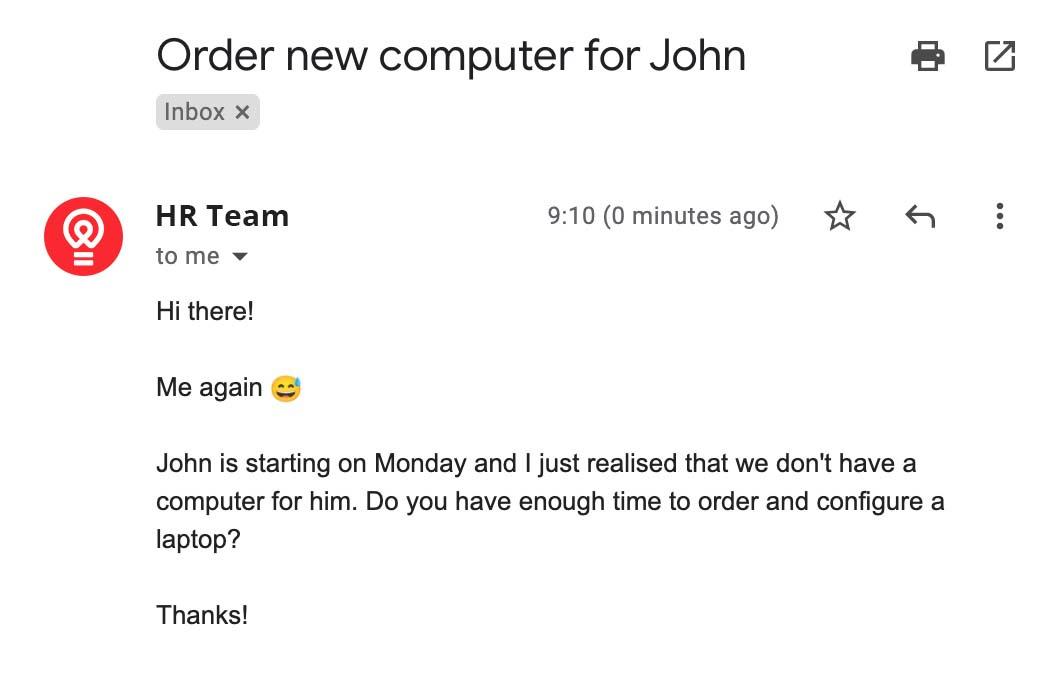 With IT and HR working together, this type of situation should never happen again.
Toward (more) data-driven HR
According to the 2022 Future of Work report, 35.7 % of HR professionals view their decision-making as highly data-driven, and almost 1 in 2 (46.4 %) say they place people analytics in high regard.
From years of experience working closely with Sympa users, we know that you can only improve what you do by measuring and tracking performance. As you work and implement more workflows with the help of your IT team, you'll get more chances to do just that.
Measure the impact of HR on the business
Looking into your HR metrics will 1. help you understand your impact on the business, 2. help you communicate it to higher management and 3. help you improve what you do.
Below are a few metrics you could follow and aggregate via your HR System.
Cost per Hire
Time to Hire
Absence Rate
Retention Rate
Employee Performance
Employee Turnover
Training Effectiveness
Employee Engagement
Such knowledge will help you make more informed decisions and weigh more on an organisational level.
To learn more about HR metrics, read our blog post: How do HR metrics steer companies towards success?
Improve your talent management processes
Finally, making sense of your people data is also an opportunity to map the skills of your organisation:
What skills do you currently have
What skills are you missing? Based on the identified gap, you should decide whether to train your employees or simply hire new talent to get those missing skills.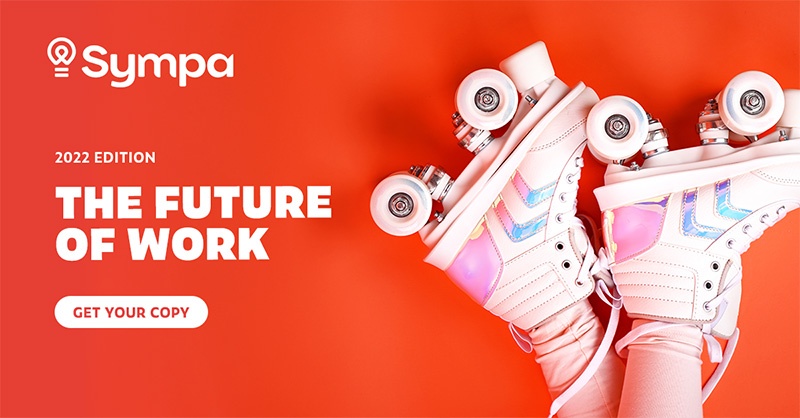 Ready to streamline your HR processes?
Put together, the main reason IT and HR should be working together is to create a coherent HR environment that can support an organisation.
—
That's it. You now have everything you need to sell the idea for closer collaboration between your HR and IT teams.
Now, if you want to talk about your current HR setup and would like to discover how implementing an HR system like ours could help support your organisation's growth, let's chat!