7 WAYS TO IMPLEMENT HR ANALYTICS
If you need a crash course in implementing HR Analytics, this is the cheat sheet for you.
CHEAT SHEET: 7 WAYS TO IMPLEMENT HR ANALYTICS.
If people data is the raw material from which you hope to extract valuable insights, then HR Analytics is the toolbox that'll help you shape the global view of all your people functions. This cheatsheet outlines 7 ways you can successfully implement HR Analytics so you can paint as detailed a picture of your organisation's HR functions as needed.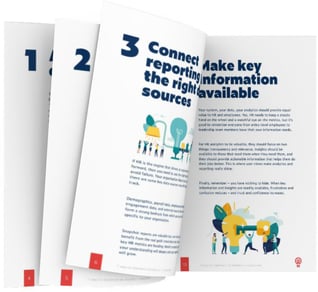 DOWNLOAD YOUR HR ANALYTICS CHEAT SHEET
Fill in the form below to get a copy of your cheat sheet directly to your inbox!