Predictive analytics is a hot topic in HR, but how many companies are actually utilising it? Mobile is surpassing desktop with most digital tools, but does that apply to HR systems? We at Sympa surveyed the state of HR in the Nordics.
We wanted a complete current state analysis of the HR industry and to identify key trends and areas of improvement in the Nordics in 2018 – so we rolled up our sleeves and conducted a study. Over 200 Nordic HR professionals took our survey, and the results paint an interesting portrait of HR work in the Nordics.
The survey, HR in the Nordics 2018, examined many aspects of HR, and the results show Finland, Sweden and Denmark as being equals in many aspects of HR. For instance, with HR analytics, every country still has a lot to do and investments in HR are seen as an important future development, because the tools seem to be in need of improvement. Another common feature was talent and competence management: it's considered crucial in every country, and more means to develop it further are needed.
There were differences, too. Denmark, as an example, pays more attention than Sweden and Finland when it comes to employee commitment matters, at least when employee satisfaction and recruitment processes are concerned. On the other hand, Finland takes the lead when it comes to HRM processes or the adoption of HR systems. These two matters are linked; HR systems bring transparency and improve the quality of HR data available.
Finland is a bit behind when it comes to competence management and recruitment. Competence management is huge at the moment – a quarter of the respondents see it as the most important area of development in 2018, and 63% of respondents see it as a strategically important matter. Competence management and development are indeed widely recognized as success factors for companies and societies alike. This area is sure to see some quick development. In addition to securing operational capability, competence management is an important brand-building tool for companies, especially when it comes to recruitment.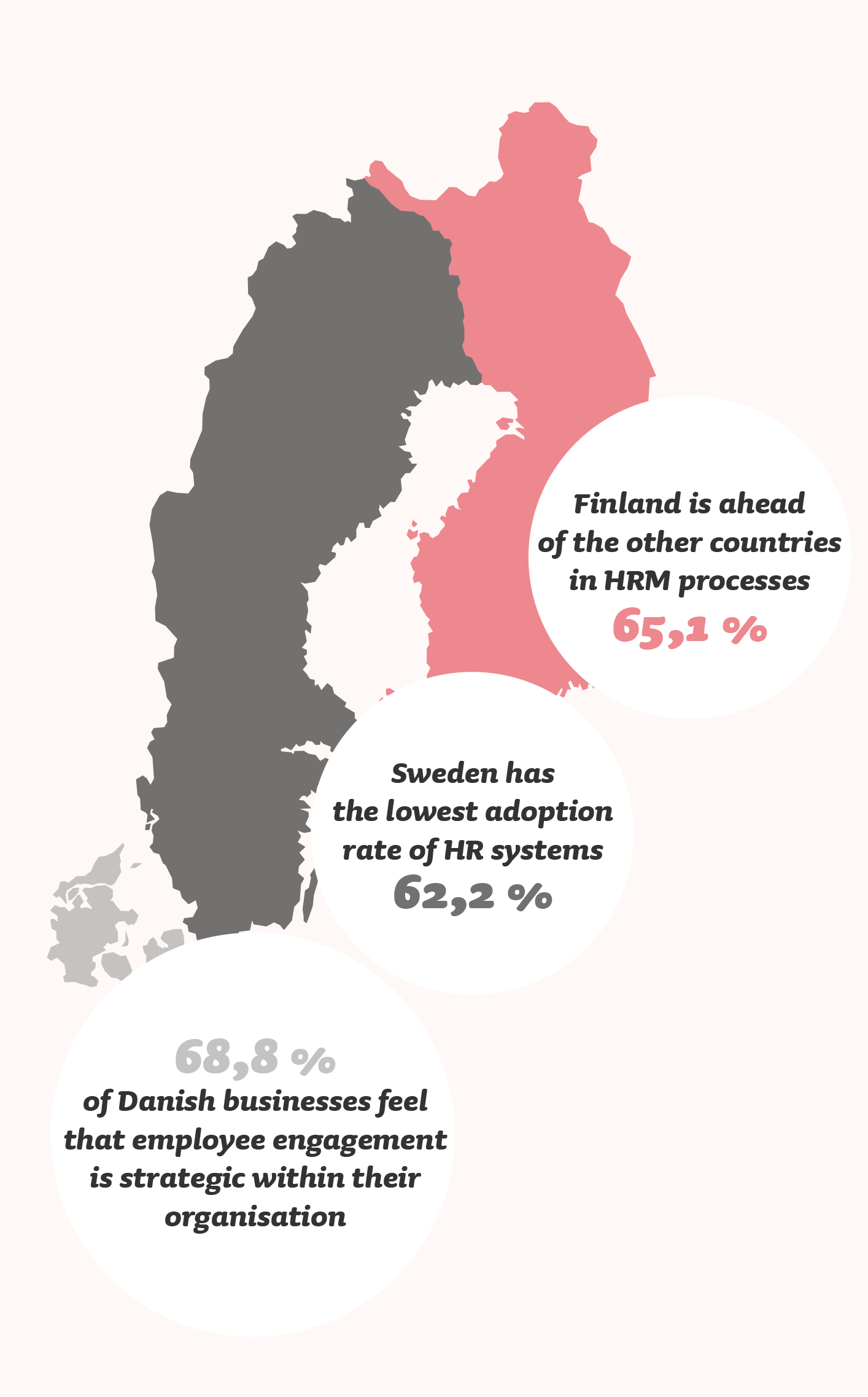 In the near future, competence management and development will be augmented with even more dynamic processes and tools, which will help adapt to changes in strategy and operational environment.
Technology allows for modern processes
Predictive analytics is the word of the day in the HR world, and for good reason – utilising data for proactive HR work holds tremendous potential. This potential is as of yet largely untapped, however. HR analytics in the Nordics means largely basic HR reporting: On a scale of 1–4, the maturity of predictive HR analytics was seen, on average, to be a modest 1.59, whereas the equivalent number for traditional HR reporting was 2.48.
Predictive analytics requires new tools and resources. Finland is in good standing concerning setting up predictive analytics, because the relative prevalence of HR systems affords good possibilities for a shift from traditional reporting towards a large-scale proactive HR analysis. In addition to investing in systems, adequate resources for analytics need to be secured, and the relevant competence needs to exist in-house or with the right analytics partners. All in all, predictive analytics is a possibility to set a company apart and add significant value.
At the time of writing, in the Nordics, 'HR analytics' largely means basic HR reporting.
As with so many things, the format of future HR is mobile. Four out of five respondents thought mobile brings ease of use and better data to HR. In light of this, it's surprising that only a third of respondents currently have an HR system that works on mobile devices. Mobile has far-reaching implications for supervisor duties and HR work – for instance, facilitation of data input brings HRM information up to date and allows for comprehensive and current data for predictive analytics. Different dashboards make day-to-day HR work easier and bring supervisors more tools for their duties.
At the core of a good mobile service is, however, user experience, which has to be up to par with consumer services in order for the service to bring value to HR. HR tools do not, of course, replace face-to-face interaction and personal supervisor work – the goal is rather to make face-to-face interaction more meaningful and to free up supervisors' time for core tasks.

95 %
of HR feel that there's room for improvement in management
45 %
of Nordic organisations consider their employee engagement processes well-working

67 %
of HR professionals have no access to mobile HR tools

44%
of HR sees gaps in HRM approval processes
Towards the future of HR
Our new current state analysis also supports the common conception of large changes in HR today. Basic processes are up to par in the Nordics, and companies are fit for the introduction of advanced, technology-driven HR processes, such as predictive analytics. The results of HR in the Nordics 2018 reflect the current focus of the industry: The key goal for any HR system is to offer supervisors better tools for HR work and to offer in-depth support for the development of HR processes. These are very much in demand in companies, and technology-driven development of HR processes is, indeed, a megatrend in the industry.
Interested in all of our findings?