Quality Engineer Irene Koskinen, who is part of Sympa's technology team, has been with the company since 2016. Initially, she was her team's first female coder. Now, she works as a tester on a nine-person team.
Irene Koskinen, a 44-year-old native of Lahti, has travelled a winding path to her current position as a tester at Sympa. She was originally trained as a midwife but, after spending some time working in the field, she decided to plunge headlong into another world – coding.
Irene had always had an interest in technology, and she soon realised that she had a talent for it. "It has been interesting to find that, despite the many differences between midwifery and software development, the two fields also have a lot in common. For example, both fields are highly cooperative in nature. Of course, there are things that are done individually, but both fields absolutely require strong communication skills," Irene explains.
Rooted in Lahti, working around the world
Irene's transition into the information technology sector started with a vocational qualification in information and communications technology and continued with a bachelor's degree in business information technology. She started her work in the sector with a position at a Finnish media group, starting off as a trainee before becoming a full-time employee. She also spent several years as a software developer and project manager at an IT service provider. She began working at Sympa in 2016 as the company's first female coder.

Irene Koskinen
"I was welcomed warmly, and my gender has not been an issue in my everyday work at any point. We are a diverse group of people in every way – a selection of different personalities from different backgrounds – and we all do our best to achieve the best possible results for our customers," Irene explains.
Currently, Irene is working as a tester in a team of nine, which consists of seven coders and two testers. The staff at the Lahti office is more international than at the average office, and you may find yourself sitting next to people from places such as Vietnam, Estonia and Ireland. The company's customers also come from every corner of the world, which means that the 22 different language versions of Sympa's HR software must be continuously taken into account in daily software development.
This work – like most work these days, I guess – requires you to constantly develop new skills and learn new things on your own initiative.
Irene Koskinen
Quality Engineer
Currently, the technology team is using a number of tools on a daily basis, including Visual Studio, Azure Portal, Rabbit MQ and Microsoft SQL Server databases, and testers also have to take different web browsers into account. "Technology is constantly developing and being adapted to different things. On the other hand, that fact is also one of the best parts of the job – it means you're always learning new things relevant to your field. For example, I just recently became an ISTQB Certified Tester," Irene says.
Customer service is not rocket science
According to Irene, the transition from coder to tester has been a welcome change of pace. It is good to view things from several viewpoints, and the experience as a tester improves your understanding of the different stages of software development and their requirements. However, the customer's perspective is always priority number one.
"In this line of work, it's important to always keep in mind the priorities of the customer and, even more importantly, the end user. Given the fact that you always see the work from a technical standpoint, it can be easy to get too hung up on an interesting technical detail," Irene laughs.
It's genuinely rewarding to see the different parts of a project come together successfully and the customer getting real added value thanks to our hard work.
Sympa has grown quickly since 2016, when Irene started working for the company. She praises Sympa as a pleasant workplace and remarks on the relaxed atmosphere. However, the staff is also ambitious, and shared goals are set high, which means the work offers a genuine personal challenge and an opportunity to develop your own skillset.
"It really makes your workdays better when you regularly get the opportunity to do other things besides work. With the team, we've gone to the theatre, tried karting and eaten at different restaurants, among other things. We also have our annual Sympa days, where all the employees in the company can travel abroad for a few days to work and have fun. I've personally been to France, Spain, Italy and Czech Republic," Irene says.
Sympa's international nature can also be seen in employees' opportunities to take part in office exchange programmes abroad. Irene will be spending one week working at Sympa's office in the Netherlands later this year.
"Not once have I regretted taking the plunge into the world of IT. If anyone is interested in working in this field, I encourage them to follow this path without hesitation. This isn't rocket science; everything about this work can be learned, and at the end of the day it really is just a type of customer service," Irene explains.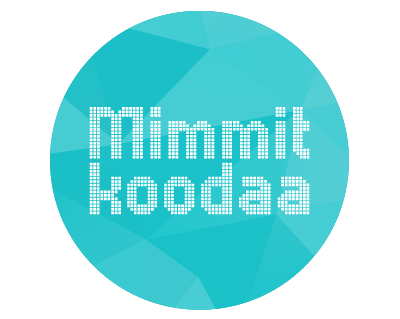 TOWARDS A MORE EQUAL INDUSTRY
Sympa is proud to be part of the Finnish Mimmit koodaa (Women code) programme, which has the long-term goal of giving future generations equal opportunities to study and succeed in the IT industry, regardless of gender.
mimmitkoodaa.fi
Be part of developing the world's best HR software
Join us if you want to work with relaxed but ambitious people,
the newest technology and continuous development!