GETTING STARTED WITH TALENT MANAGEMENT
We compiled the key questions to ask when crafting the foundation for a solid talent management strategy.
DOWNLOAD PDF
Fill in the form below to get access to the PDF. We will also email it to you.
CHEAT SHEET FOR TALENT MANAGEMENT
Creating and maintaining a successful talent management strategy is an ongoing process that requires continuous attention and development. But how should you approach the process? Which things are good to keep in mind?
By using our cheat sheet you'll be able to ask the right questions that result not only in a better talent management strategy, but also happier employees and a more productive team altogether.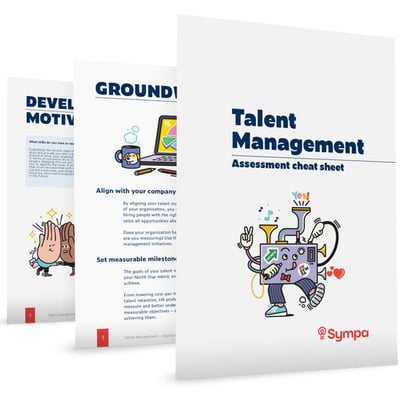 DOWNLOAD CHEAT SHEET
Fill in the form below to get a copy of the cheat sheet directly to your inbox!
READ OUR TALENT MANAGEMENT EGUIDE
Having a solid talent management strategy in place will allow you to create processes that ensure you have the right talent available, now and in the future. Read our eGuide on the basics of talent management to learn more about why talent management matters!