HOW HR CAN SUPPORT REMOTE WORK
Everything you need to know to successfully implement full or partial remote work in your organisation.
GET YOUR HR X REMOTE WORK CHEAT SHEET
Fill in the form below to get access to the PDF. We will also email it to you.
REMOTE WORK IS HERE TO STAY.
The world of work has undergone many changes as the COVID-19 pandemic continues to make its impacts felt. One of the most significant changes is the rise of remote work, which appears to be here to stay.
Are organisations ready for this shift? Yes – and no.
Since 2020, organisations that have risen to meet the world's challenges have heavily relied on technologies that allow people to communicate and deliver in a remote setting.
WHAT IS REMOTE WORK?
Simply put, remote work (or remote working) refers to the practice of working outside of a traditional work environment, be it a living room, a nearby coffee shop, train, or an off-site coworking space.
Remote work has been around for a while, but it's fair to say it was a minority practice pre-2020. The exception quickly became the rule as 2020 progressed, with most organisations quickly shifting to a remote-first work mode wherever possible.
Of course, there's a caveat.
Many business leaders appear to be disconnected from the daily reality of their organisations and employees.
A recent Microsoft lead study revealed that 61% of business leaders feel they are thriving during the pandemic period. In comparison, only 38 % (out of a pool of 30,000 surveyed) of workers say the same.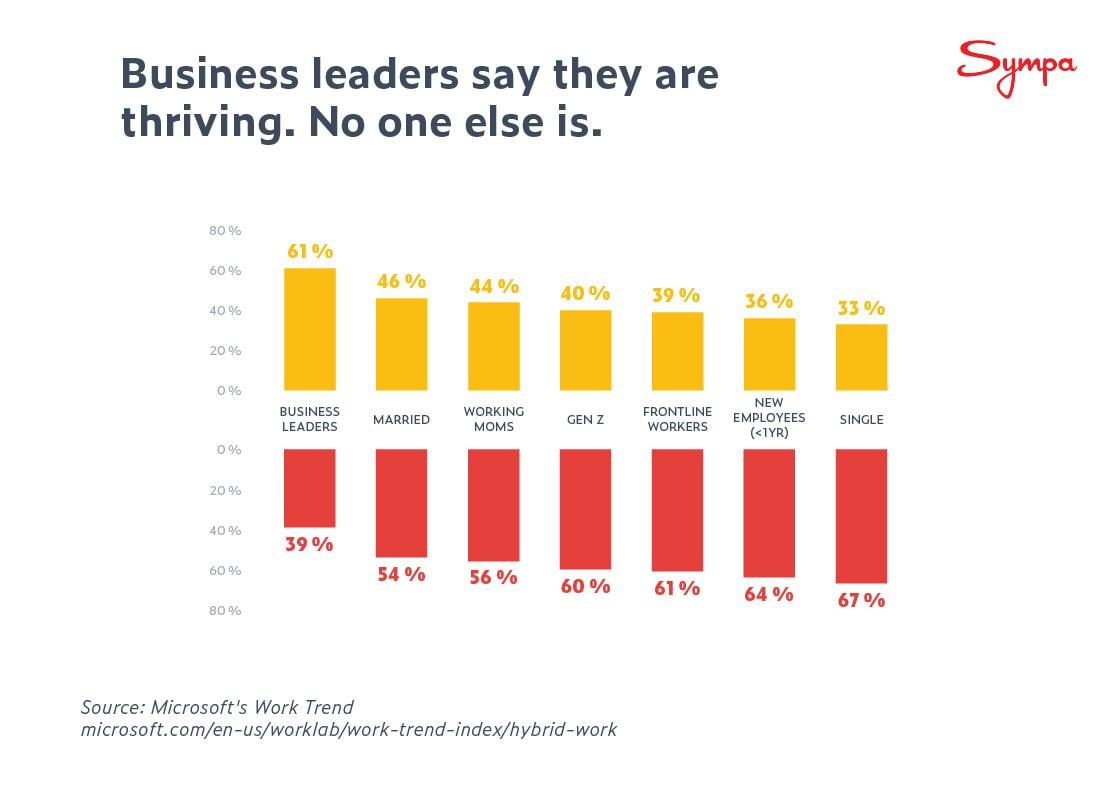 It doesn't stop there. Microsoft's Work Trend Index also finds that burnout is widespread. 54 % of workers say they are overworked. 39 % say they are exhausted.
Yes, these trends are alarming. However, we believe now is the time for HR to step up. If remote work is here to stay, innovative HR leaders have the opportunity to make positive changes that support the long-term wellbeing and productivity of colleagues and employees.
It's time for HR to build the future of work.
—
"This is really our moment. In the last crash, it was CFOs that saved us. This time it will be CHROs."
—Diane Gherson, Chief Human Resources Officer at IBM
—
One thing is for sure: the COVID-19 pandemic changed our perception of remote work. Once perceived as a barrier to productivity and effective management, it now seems remote work isn't the threat it was once made out to be.
Of course, the road to building a remote work-friendly environment isn't without obstacles.
6 CHALLENGES INHERENT TO REMOTE WORK
Doist, Remotive, We Work Remotely and Buffer recently partnered up and published a survey that polled 2,300 remote workers worldwide with the aim of understanding the effects of remote work on people. The survey revealed 6 common challenges people face when working remotely.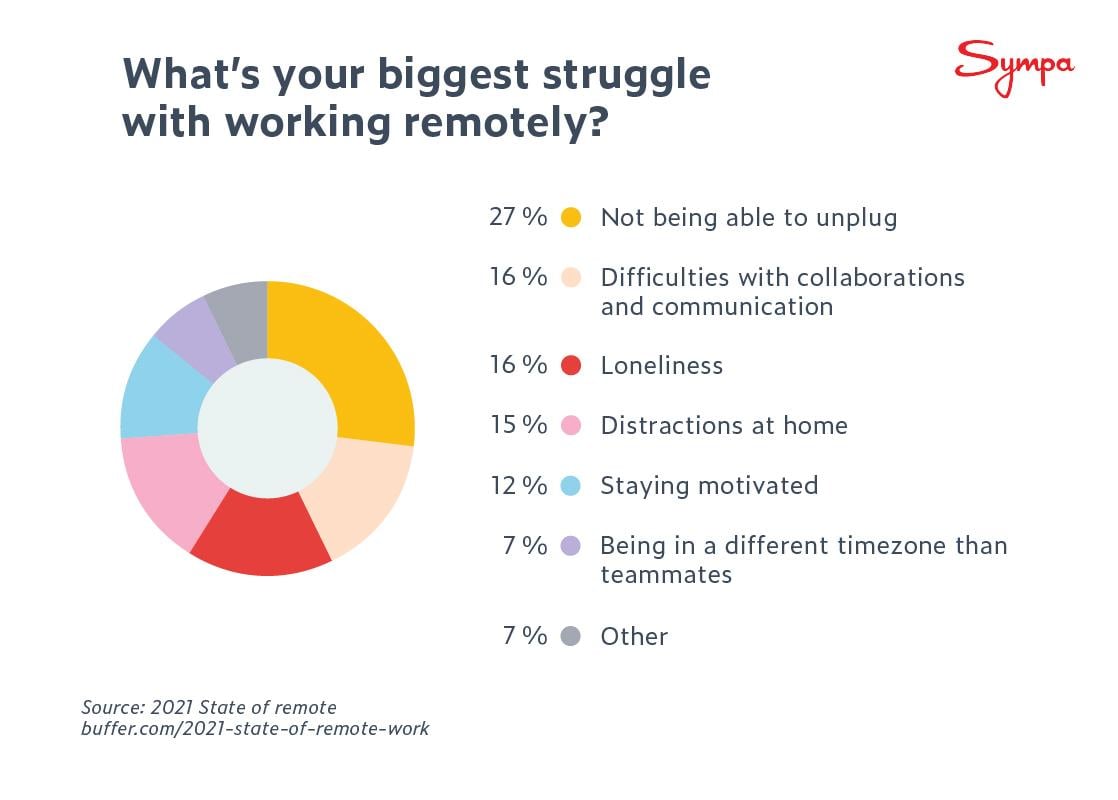 NOT BEING ABLE TO UNPLUG (27 %)
According to the survey, more than one in four employees in a remote setting struggle to switch off outside of work time.
This doesn't really come as a surprise.
When going to the office, people have a routine. Home is home. Work is work. When home becomes the office, the line between work and personal life blurs.
DIFFICULTIES WITH COLLABORATION AND COMMUNICATION (16 %)
While technology can keep people connected, the lack of face-to-face or in-person interaction can cause communication problems for both managers and employees.
On the one hand, managers may worry about employee productivity, even though research indicates these worries are often unfounded. On the other, employees may feel their managers aren't available to offer general support or help them with work-specific tasks.
—
"Without structure, the absence of in-person interaction can break work relationships – trust can be shattered."
—XYZ, Sympa
—
Distance also brings a whole new layer of complexity to the onboarding of new employees. How can you ensure your culture and values are communicated through remote channels when you've never done so before?
Additionally, communication difficulties can arise from poor access to key information, especially when it is scattered across dozens of systems and solutions. When it is difficult for new recruits to get answers to even the simplest questions, you are likely to encounter more complex communication problems down the road.
LONELINESS (16 %)
"Oh boy, do we miss worry-free, informal social chatter by the coffee machine!"
— Everyone.
We are social animals. As lecturers Isabelle Catherine Winder and Vivien Shaw put it: "modern humans are one of the most social species of all mammals." Extended isolation from colleagues and friends is a real challenge that can cause stress and take a toll on the mental health of employees.
Given enough time, isolation can also affect an employee's feeling of "belonging" to an organisation and can increase staff turnover. For instance, 41 % of office workers polled in Microsoft's Work Trend Index say they're considering quitting their job, as they feel out of touch with their team and leadership.
POTENTIAL DISTRACTIONS AT HOME (15 %)
Working from home is a whole new challenge for employees.
In most cases, homes aren't great workplaces. While some people find it difficult to unplug from work, others find it hard to turn their living rooms, kitchens and bedrooms into decent home office environments.
But, in all fairness, who can blame them?
Many people lack dedicated, ergonomic home workstations, with sofas or armchairs making for poor substitutes that often lead to poor posture and fatigue injuries. People living in family households often need to juggle work meetings with school homework sessions, team meetings, creative workshops for their kids, and much more.
For obvious reasons, this can quickly become exhausting, especially when challenges keep adding up.
STAYING MOTIVATED (12 %)
If the challenges mentioned above aren't taken seriously by organisations, employee motivation will likely be negatively affected, especially if their freedom of movement is limited by local restrictions.
12 % of State of Remote survey respondents report difficulties in staying motivated, underlining the red flags and misalignments highlighted in Microsoft's Work Trend Index.
WORKING IN A DIFFERENT TIMEZONE (7 %)
Finally, another common challenge is the potential time difference between workers in different locations.
When everyone can work from anywhere, asynchronous communication can become a problem if organisations don't have a structured approach.
—
"Implementing remote work … sure is a lot of work. But it's worth it."
– XYZ, Sympa
—
Yes, that's quite a list of negatives. Fortunately, the benefits of remote work are real, and they can significantly outweigh the negative impacts.
THE BENEFITS OF REMOTE WORK
Overlooked (or even feared) by many business leaders for a long time, new studies show that full or partial remote work implementation can be very beneficial for organisations.
From higher flexibility to spending more quality time with family members, The State of Remote Work survey makes a compelling argument for remote work being the boost your workforce and organisation needs.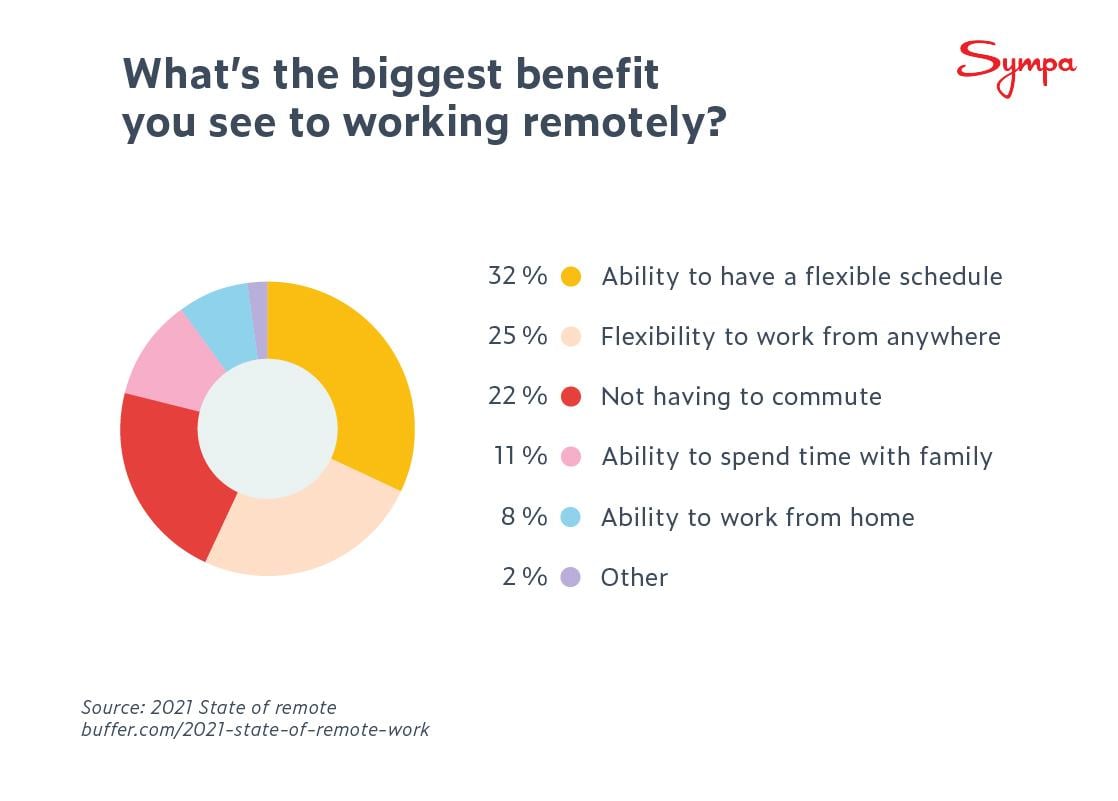 MORE FLEXIBILITY = HAPPIER EMPLOYEES
Flexibility is the #1 perk of remote work.
When working remotely, employees get to decide how, when and where they work.
Key benefits listed by State of Work Survey respondents include a flexible work schedule (32 %), being able to work from anywhere (25 %), and having the possibility to work from home (8 %).
NO (OR LESS) COMMUTING TIME (22 %)
While the length of the average daily commute in Europe is around 25 minutes, some cities lie on different ends of the bell curve.
For example, commutes in Budapest, Paris, Amsterdam, or London can exceed 60 minutes – a huge chunk of an employee's day and a real source of stress.
On the other hand, not having to commute (especially in and around large cities) positively affects stress levels and unlocks "me time" for employees.
This is time that can be spent:
Getting more quality sleep
Exercising
Preparing and eating healthier food
11 % of the State of Work Survey respondents also highlight how they appreciate spending more quality time with their family.
GET MORE WORK DONE
A common misconception is that remote work is a productivity killer.
Wrong!
A Great Place to Work® study analysing more than 800 000 employees from Fortune 500 companies revealed that remote work positively impacts productivity.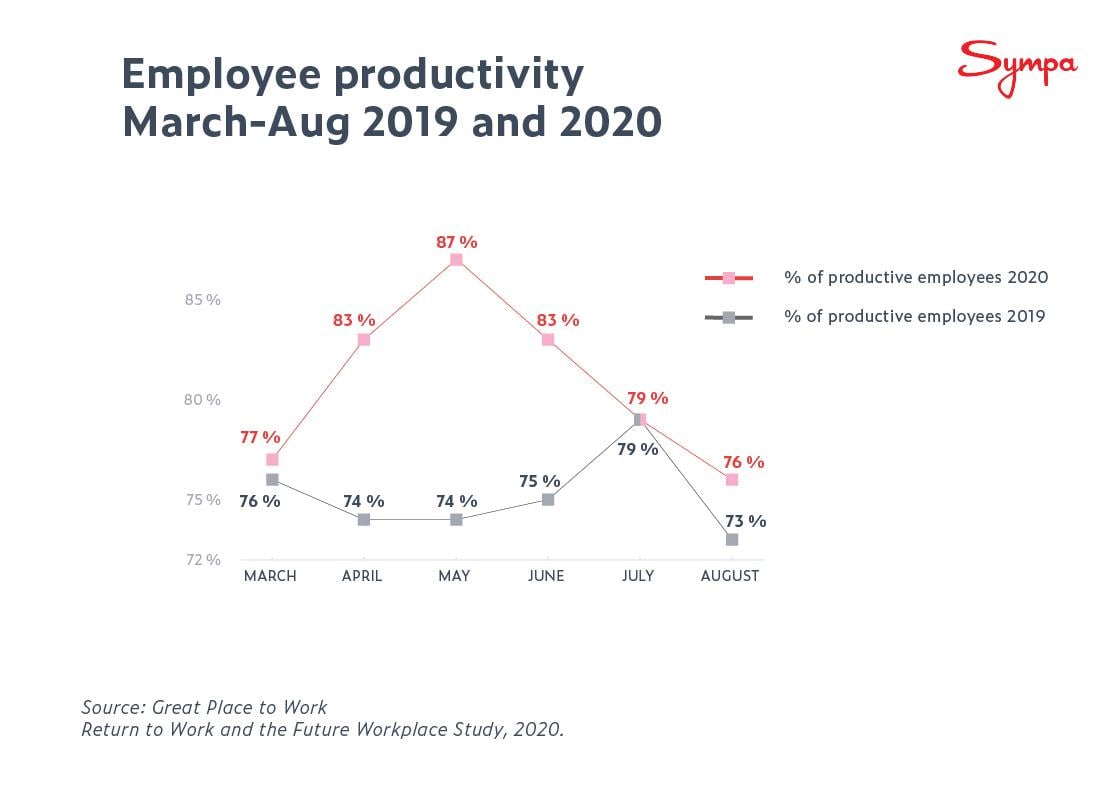 In other words: giving employees the freedom to choose how, when and where they want to work supports productivity.
THOSE WHO HAVE TRIED IT WOULD LIKE TO CONTINUE WORKING REMOTELY
Finally, a massive 97.6 % of State of Work Survey respondents stated they want to continue working remotely in some capacity for the rest of their careers, with 97 % of those surveyed also recommending remote work.
Once again, remote work is the future of work. And, as the previous data points show, the challenge isn't remote work itself – it's how organisations cope with it.
—
"The challenge isn't remote work itself, but how organisations cope with it."
—XYZ, Sympa
—
As the world of work and our habits evolve, HR teams need to lead the way. Here's how we believe you can approach the challenge.
LOOKING FOR AN HR SYSTEM?
By the way, if you're looking for an HR system, now might be a good time to book a chat with us!
7 MEASURES TO STEP UP YOUR REMOTE WORK GAME, FROM HIRE TO RETIRE
As organisations slowly adopt remote ways of working, HR processes need to level up to effectively function.
Technology gives Human Resources teams a two-fold opportunity: to digitalise processes and increase productivity on a company-wide scale.
Click to jump to a section:
EXPERIENCE REMOTE RECRUITING
"I can't hire someone I've never met", said 100% of recruiters in the early 2000s.
Due to a lack of technologies to support fluid and transparent communication between organisations and candidates, remote hiring used to be a challenge.
Today, HR professionals can rely on technology to build an efficient remote recruitment plan.
Why you should get on the remote recruitment train
Long story short: you'll save time and money, expand your candidate pool when hiring, and discover innovative ways to enhance your candidate experience.
Cost and time savings: face-to-face interview planning is time-consuming. Everyone involved needs to be available at the right time at the same location. Remotely-hosted job interviews automatically make for a smoother process for both candidates and interviewers.
Larger talent pool: this goes without saying. If you remove geographical barriers, you will increase your chances to find the best profiles for your organisation. Another perk directly trickling down from remote jobs and larger talent pools is

diversity in candidates.
Better candidate experiences: structured remote recruitment increases transparency and speeds up the overall process, leading to great candidate experiences and a positive image of your employer brand.
How you can start hiring remotely
There are two ways to experience remote recruitment.
You could keep everything the same – except for conducting interviews remotely via video call applications like Zoom, Google Meet, and Microsoft Teams. While this approach solves for distance, it might make the process more stressful and opaque for candidates.
The alternative is to centralise your hiring process operations using an Applicant Tracking System (or ATS). If you go for this option, you will be able to:
Structure your hiring process

and centralise all candidate information in one place instead of hosting CVs and other personal information on Google Drive.
Be

GDPR compliant. Who can access candidate information? How long should you keep their data? Are you allowed to disclose information to your colleagues?

The right ATS

will mean you won't have to stress about any of this.
Introduce collaborative hiring: we're all biased, whether we like it or not. An ATS favours collaborative hiring by making it possible to involve more people in the hiring decision, leaving less room for recruitment bias and making the process more transparent and fairer for all candidates.
Improved candidate experience: an ATS provides structure to your hiring process. It eliminates friction for candidates from A to Z, and boosts the candidate experience and your employer brand.
For the most structured experience, integrate your ATS into your HR system.
—
"The most important thing for us is that all employee data, from employment contracts onwards, can be found in the same system. This also gives us easy access to historical data."
—Tiina Jokio, Administrative Manager at Heureka
—
BUILD A STRUCTURED REMOTE ONBOARDING PROGRAM
Research shows that new hires that benefited from a structured onboarding program are 58 % more likely to stay in their organisation for more than three years.
Simply put, onboarding affects your employees' motivation, their belonging feeling, and their will to make a long-term commitment to your organisation.
ON-DEMAND WEBINAR
We teamed up with our friends from Compass Group & Actimo to discuss how to best onboard and engage remote employees and share first-hand experiences.
How can HR support online onboarding?
Joining a new organisation is always exciting. We've all been there.
But, for the process to go well, newcomers often need two things from their coworkers: information and time.
When working remotely, newcomers cannot simply walk over to a colleague and ask for help. They need support and a certain level of autonomy. HR can make this happen by:
Making it easy to access and consume information. Newcomers should be able to easily find answers to their questions without sending hundreds of emails or Slack messages. Create

one central location

where they can find all the information they need.
Ensuring stakeholders share their knowledge

so new employees have everything they need to be active and feel part of the team. As part of a remote onboarding program, HR teams could (for instance) schedule a first 100 days template calendar with catch-up sessions between new hires, current employees and managers.
This helps new recruits understand the organisation's values, encourages more relaxed, free chats between coworkers and reinforces team cohesion.
—
"We worked hard to introduce new initiatives like group break exercise classes, ergonomic guidance, and coffee break challenges where we chatted with new colleagues from different countries on Microsoft Teams. I can say from personal experience that a nice chat with a new colleague makes me smile for the rest of the day."
—Piritta Hansson, People Operations Manager at RELEX Solutions
—
PROVIDE STRUCTURED E-LEARNING OPPORTUNITIES
Did you know that roughly 9 in 10 employees value training? Or that 3 in 4 employees would even learn outside of work hours to improve their performance?
In other words, your people want to learn new skills. And that's a good thing, for two reasons:
The more qualified your workforce, the stronger your organisation.
Learning provides new perspectives and keeps morale and motivation up.
How can human resources supervise relevant training operations from afar?
Map out your organisation's current skills:

from the top of your head, can you list everything your employees can and can't do?

Of course not. You're only human. Fortunately, HR teams now have technology at their disposal to map and keep track of their people's skills. This is key to

developing a working Talent Management Strategy

that supports overarching organisational goals.
Ask employees what they want to learn: there's a strong chance that people have a priority list when developing their skills. Ask them what they'd like to learn!
Compare the results with the skills you know your organisation needs to grow and prioritise learning.
GUIDE TO THE BASICS OF TALENT MANAGEMENT
What is Talent Management? How do you create an efficient Talent Management Strategy? Read our comprehensive guide!
MEASURE EMPLOYEE MOTIVATION
Here's a scoop for you: happy employees are more productive.
At least, this is what an experiment conducted by Oxford's Saïd Business School tells us. A side-by-side comparison of performance and employee satisfaction revealed that happier employees are 13% more productive at work.
Additionally, the World Economic Forum and the London School of Economics found that happy employees are more loyal and less likely to leave your organisation.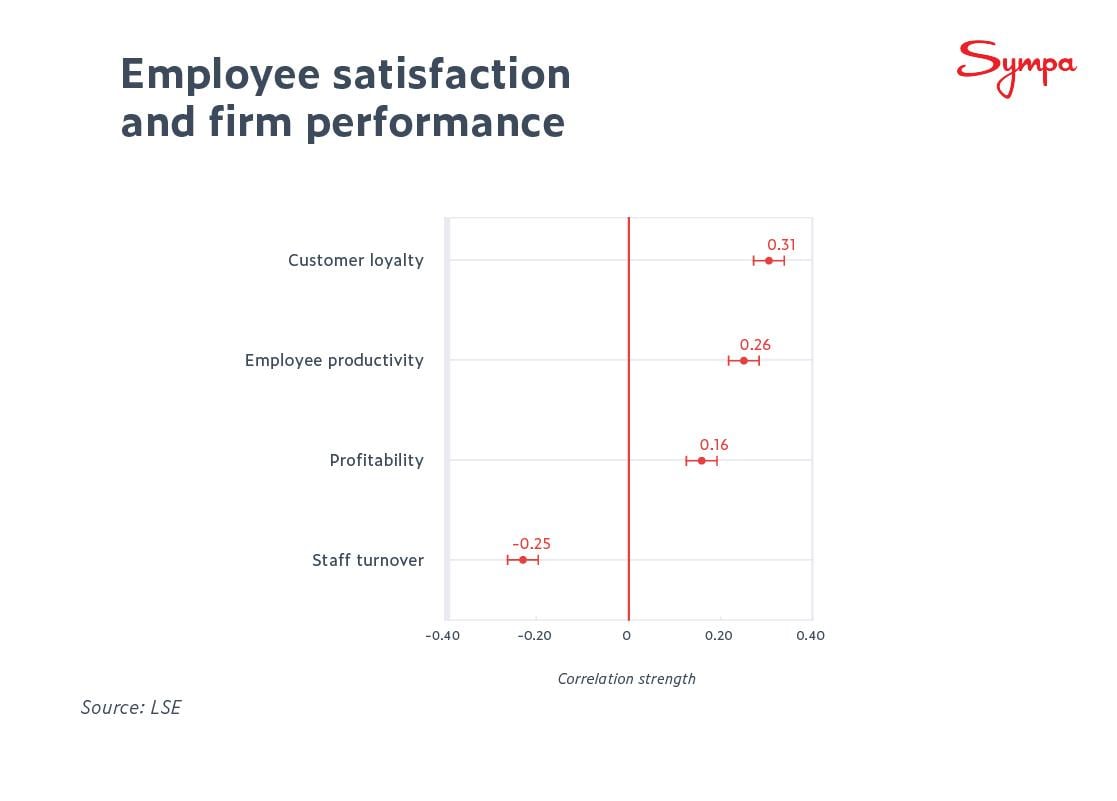 What metrics should you keep in mind when measuring employee motivation?
There are a couple of methods you can use to measure employee motivation.
First, you can ask employees:
There's no surprise here. One of the best ways to measure employee motivation is to use anonymous feedback surveys that ask for their opinion on their work environment and what can be improved.
You can monitor their behaviour:
Antisocial behaviour: A clear indicator of employee motivation – especially when working remotely – is interaction with peers through work channels. If you receive a lot of comments regarding a colleague's behaviour, it might be a good idea to reach out and find out about their current situation.
Unresponsiveness: Alternatively, remote workers might feel disconnected from their organisation, which can lead to them withdrawing from daily interactions.
An HR system helps you store this information so you can aggregate factual data, such as:
The number of absences and shorter days: a growing number of absences might indicate a lack of motivation (or the autumn influenza peak). Either way, an HR system will help you identify important trends before things get out of hand. Similarly, employees gradually shortening their workdays might indicate a drop in motivation.
It would be premature to draw conclusions when looking at these indicators in isolation, but they can paint a fuller picture when considered as part of an overall trend.
An HR system like Sympa can analyse and aggregate employee information for you – so you don't have to. It will alert your HR and/or managing teams if an employee's behaviour shows alarming signs based on your configurations.
—
"Outside of structured data collection, it is also valuable to make time for meetings with no structured agenda so people feel free to discuss things that are on their mind. These freeform discussions also provide vital indicators of sentiment, as well as potential challenges and opportunities to support remote working and leadership."
—Anna Aarnisalo, Head of Culture at Sympa.
—
SUPPORT TRANSPARENT COMMUNICATION
In a normal setting, clear communication is one of the most important duties for an organisation. When remote work is involved, clear and transparent communication is vital.
Why it matters?
All of the above.
Ultimately, communication is what will make or break your ability to establish a remote or semi-remote company.
In fact, from not being able to unplug to finding it tough to stay motivated, 5 of the 6 remote work challenges mentioned earlier are closely linked to communication.
Step up your comms!
Adopt asynchronous communication: when people work remotely and/or from different time zones, you can't expect everyone to be available simultaneously. For this reason, it might be worth exploring a tacit agreement around asynchronous communication. In other words, unless the matter is urgent, no one should feel pressured to be available round the clock for "a quick call" or "a brainstorming session."
Ensure everyone feels part of your crew: Working away from an office, let alone away from co-workers, can get a bit lonely. Frequent and inclusive communication will prevent loneliness and strengthen the bond between employees and their organisation.
Centralise comms channels: "Did you send an email? Or was it a Slack message?" Whether it be for corporate news or daily chatter between employees, centralised communication is key to building and maintaining cohesion.
Avoid unnecessary meetings: Remote or not, many meetings aren't all that necessary. As you move towards becoming a remote-friendly organisation, re-evaluate how you approach meetings. Here are a couple of best practices we try to follow at Sympa:

"Could this be an email?" – If the answer is yes, maybe it's not worth booking a meeting.
Suggest walk and talk meetings, when applicable.
Set a default meeting time of 50min instead of 60min.
Adopt Meeting-Free Fridays.

Develop your company culture: As revealed by Microsoft's Work Trend Index, 41 % of people will consider quitting their job if they feel out of touch with their team and leadership. To prevent this from happening, you need to ensure that workers and remote workers feel like they belong in your organisation. One way to do this is to

host remote team events

(coffee breaks, after work chatter time, etc.) and to encourage positive interactions. For instance, why not dedicate a Slack channel where colleagues can praise their peers? On another note, you can break remote barriers by organising quarterly or yearly company meet-ups for co-workers to bond in real life.
Structure online appraisals: appraisals can be stressful for employees and managers, especially if they have no structured approach. Technology, again, is here to save the day. An HR system can make appraisals a lot easier to conduct. For instance, employees can access notes from previous conversations they've had with their manager, thus preventing potential misunderstandings between talks (Download our template to make the most out of appraisal discussions).
Centralise your people data. At the office, employees can easily ask for help. When at home or on the move, it gets complicated. A secure Human Resources Management System that centralises your people data gives employees and managers more autonomy and saves countless hours for HR teams.
—
"Everyone misses face-to-face interaction at the office. When all your interactions happen through a screen, the bandwidth for culture to thrive is narrowed. This is why it's important for leadership to constantly communicate with employees, using company values as a framework for what to say. If one of your values is empathy, you need to work twice as hard to ensure employees feel cared for."
—Anna Aarnisalo, Head of Culture at Sympa.
—
INTRODUCE HYBRID WORK: BRINGING THE OFFICE CLOSER TO EMPLOYEES
The world of work is changing. Having said that, no one expects all remote-compatible organisations to go fully remote starting tomorrow. A trend in the making as we slowly get back to the office is the birth of the hybrid world of work, or the hybrid office.
What is the hybrid office – and how can we make it happen?
The last couple of years gave us the unique opportunity to measure how much people value remote work. As a matter of fact, they love the flexibility it provides, and 97 % of those who've had the opportunity to work from home would like to continue doing so, at least from time to time.
The idea behind the hybrid office is to re-invent the world of work for and with your employees.
Where do they like to work?
What's most convenient for them?
How do they picture your office space?
Do they want to come to the office every day?
Asking these questions could result in significant cuts in your organisation's operational costs.
For instance, instead of renting large office spaces, why not rent smaller spaces in which employees could work in rotation a couple of days each week? An alternative could also be to share an office space with a partner company and equally divide time at the office.
INTRODUCE DATA-DRIVEN HR
People are the most important part of an organisation.
Moving forward, HR team members should be able to tell a story when looking at their people's data.
Why this matters
Simple. Prove the following famous saying wrong: "out of sight, out of mind".
Less face-to-face interaction requires new skills to read key signals — from slight motivation drops to early signs of burnout — so you can keep supporting and focusing on your people, even from afar.
How to get started
A well-functioning data-driven HR team relies on 2 key aspects:
The right tooling: HR activities go far beyond hiring and firing people. However, without the right tooling, HR professionals might find it hard to step away from heavy processes and focus on what matters most: people. Tools such as comprehensive HR solutions help HR teams automate many of their daily duties so they are free to focus on actions that give more value to their peers.
Training: Your HR team should be fully autonomous when it comes to leveraging data. This is why we at Sympa are committed to providing a flexible and easy-to-use solution that works for HR teams.
—
"It is also extremely important that good news is shared and successes are celebrated. If the data shows we are doing well overall, we should let people know where their efforts are making a difference."
—Anna Aarnisalo, Head of Culture at Sympa.
—
RE-INVENT YOUR EMPLOYEE EXPERIENCE
If it wasn't clear yet, let's say it one more time: we believe an organisation is only as great as its people. As the world of work evolves, so do the habits, needs and wants of your coworkers.
From setting clear boundaries to providing crucial support to your employees, you now have the blueprint to transition into a functioning remote work company.
PSST!
If you're planning to digitise your HR processes, or you would like to benchmark your current HR system provider with Sympa, let us know!