In a recent blog post I looked at workforce analytics, a tool that organisations are increasingly taking an interest in. Once you have grasped the 'why and what', it's time to apply the concept in your own work. To help you, I have outlined a simple seven-step guide to getting started with workforce analytics.
1. Determine where to begin
Decide which projects to engage in based on available resources and capabilities: where can the largest positive results be achieved with the least effort? Getting quick results will build confidence, which in turn helps win support for more demanding projects.
To help determine what might have the biggest impact, talk to subject matter experts and data owners. The analytics team cannot form recommendations or access the necessary data without these people.
2. Identify your analytics capabilities

Start by listing your current analytics capabilities (with, for example, a SWOT analysis) and come up with a plan for forming an analytics team. Options typically include establishing an internal HR analytics team, or doing so jointly with other business units, external partners or a combination of these.
Get management on board as early as possible, as without resources the project is unlikely to succeed. Having an influential sponsor is crucial for workforce analytics projects to succeed. Make sure also that you have both HR and legal expertise available on-demand.
3. Evaluate the quality of your data
After assessing your analytics capabilities, evaluate the current quality of data and plan a future data governance model. If you put poor data in, you get incomplete/inaccurate analysis out.
It's impossible to succeed without high-quality data and a list of available data sources and owners. The analytics process can often work as a catalyst in identifying the incomplete data and its sources. After the evaluation, organisations know where to start developing the data inaccuracies.
4. Select tools
The next step is the selection of analysis tools. Excel is a common choice, but nowadays Business Intelligence tools like QlickSense, PowerBI and Tableau are cost-effective upgrades from spreadsheets. They also bring features like real-time dashboards, shared reports, advanced data processing capabilities among others. Starting is important, and once your capabilities grow you can implement more advanced tools.
5. Select metrics
Set the success criteria of the project. Define the information you aim to uncover and how will it help the business overall.
If you can't identify a business case, or if you conclude it doesn't exist, then don't start the analytics project. Focus on projects with a point! Also, it's important to have interim metrics and follow up on them, so that you are sure that you are on the right path.
6. Create an action plan
You may want to write the report and recommended action in the form of a story. This will help to make the process easier to understand and the resulting report more likely to stick in the reader's mind. Marketing and communications can usually help you build a coherent story. As the analytics team is not working in isolation, the importance networking and sharing insights cannot be overstated.
7. Measure and measure again
The project does not end when you deliver your recommendations. The final step should be measuring the impact of the recommendations. After that, you naturally go back to making new recommendations and measuring their impact.
This is the basic path to follow when building a workforce analytics process in your organisation. Don't hesitate to get in touch with me if you are looking for more advice!
P.S. Further reading for anyone interested, I can warmly recommend the book "The Power of People" by Nigel Guenole, Jonathan Ferrar and Sheri Feinzig. The book gives you concrete examples and practical recommendations to start the analytics process yourself. In fact, many of my recommendations are based on their work.
Call or email me directly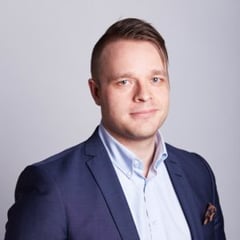 Jaakko Mattila
Business Development Manager
+358 44 562 8452
jaakko.mattila@sympa.com
Jaakko has specialised in HR development and new industry trends and happenings. He is interested in the possibilities that predictive HR analytics offer for developing Human Resource Management and Businesses.