A SOLUTION THAT BENEFITS THE WHOLE ORGANISATION
Save time and prevent headaches for your entire organisation with an HR system that serves everyone.
Introduce your entire organisation to modern HR tools
EVERYDAY HR
GET EVERYONE ON BOARD
HR, team leaders and employees alike save time when there's a single location for all things HR. That's why an HR system needs to offer relevant tools for everyone in the organisation. With Sympa, the whole organisation can easily keep track of the HR processes and HR data and see the information that is relevant to them.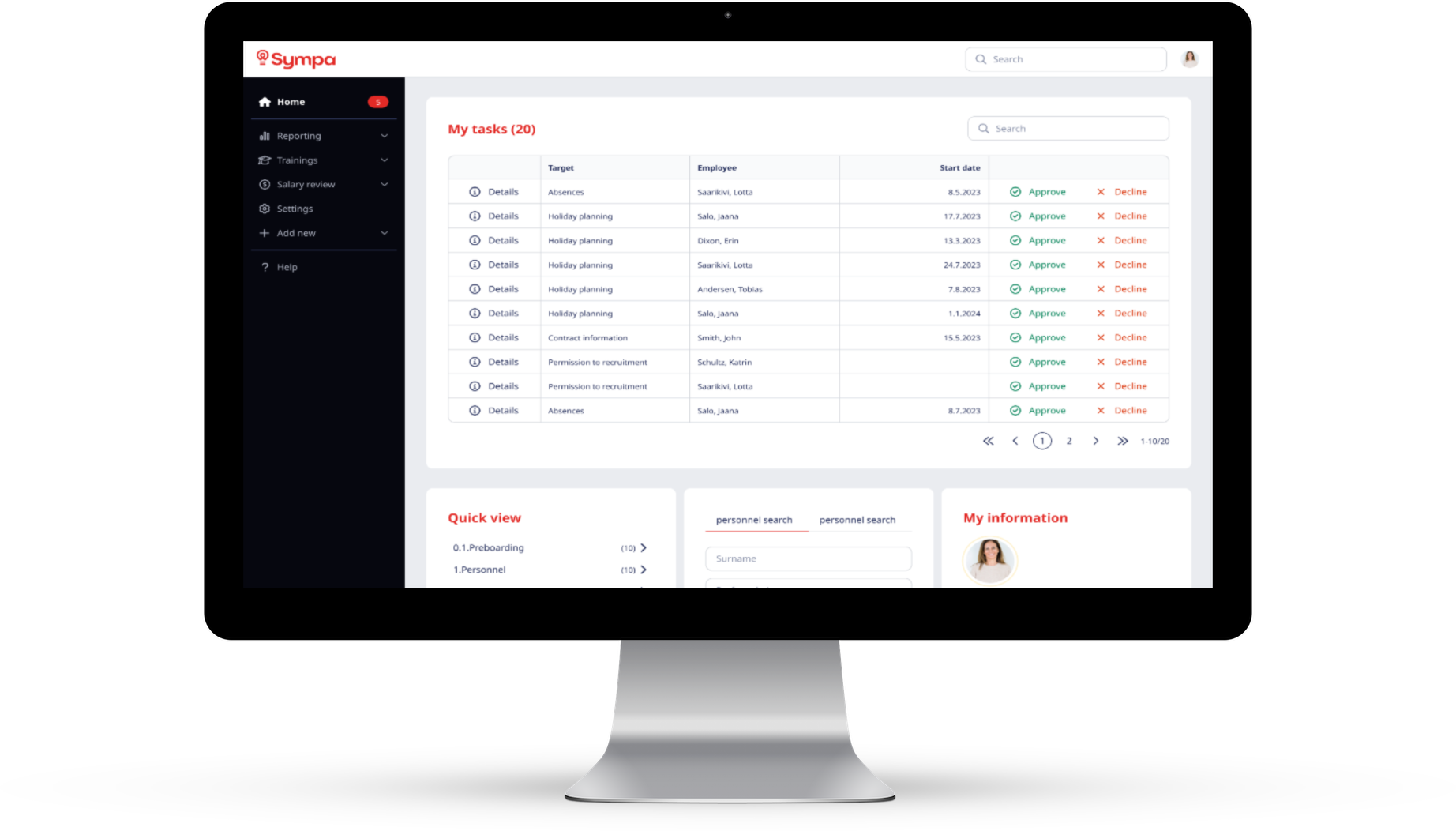 SELF-SERVICE
EMPOWER EMPLOYEES AND TEAM LEADERS
There's no need for HR to act as an intermediary for everyday information. Sympa gives employees instant access to their own data and visibility of their development. Team leaders get full insight into their team's status, happiness and absences, as well as the opportunity to track their team member's skills and development.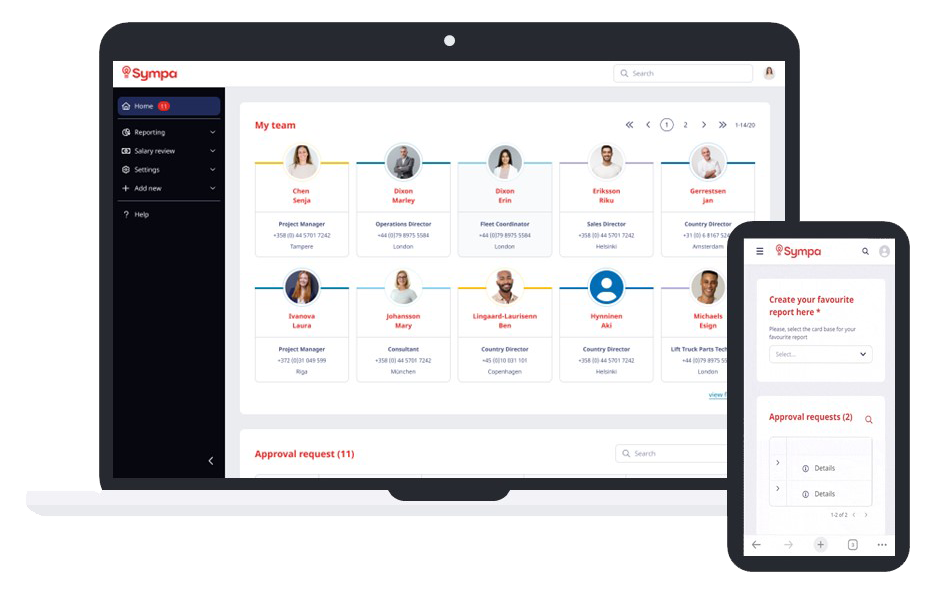 STRATEGIC HR
GIVE HR VISIBILITY IN THE BOARD ROOM
Introduce your executives to data-driven HR management and help them make better strategic decisions regarding your people. Sympa HR's comprehensive HR data and reporting tools make it easy to present your case with convincing data and visualisations of your people data.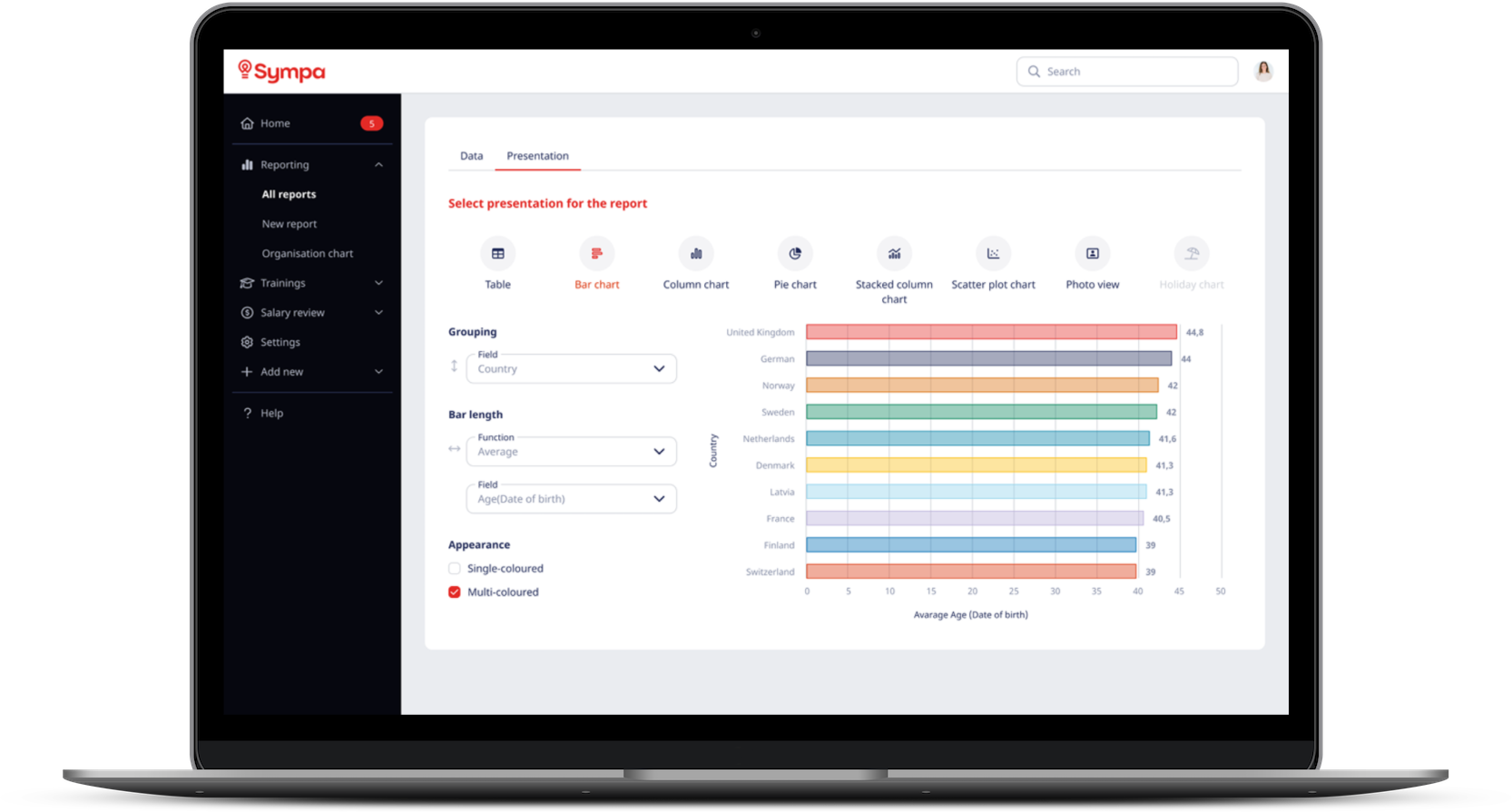 KEY BENEFITS FOR DIFFERENT USER GROUPS
HR
Automate most of the routine tasks and focus on more value-adding tasks
Enjoy one centralised system to work in: all data, information and processes in a single system
Minimise scattered data and time lost finding data
Ensure that your processes are GDPR compliant and data is safe
Always have a solid foundation for development projects and initiatives
Get the data you need to back-up reliable reporting, strategic arguments and better decision-making
Customise and modify the system yourself or with the help of your local customer success manager who is always happy to exchange thoughts
MANAGEMENT
Enjoy a fast ROI – local support guarantees that implementations stay

in time and on budget

Use a system compatible with local conditions, such as labour legislation, and at the same time enables cross-border HR management
View key HR figures for better decision-making and forecasting
Back up your strategic HR initiatives with the required data
Increase productivity as employee self-service saves time from HR, simplifies managers work and empowers employees
Manage the employee experience and boost your employer brand by offering your people a reliable and user-friendly solution
IT
Get rid of maintenance headaches thanks to SaaS (no on-site implementations)
Know that data is safe and secure with ISO-certified, GDPR compliant HR processes, HR master data and data management
Enjoy seamless data flow between other systems by using ready-made connectors and easy API
Reduce the cost of future IT investments and make them faster to implement as all HR master data is in one place
Get help from truly local customer, integration and implementation support
Get involved if you want, but the system can be implemented and maintained without IT as well
TEAM LEADERS AND END USERS
Empower users to own and update their personal data
Save time from team leaders as they can easily view and approve e.g. holiday requests
Make leadership more efficient by gathering all team-related data in one place
Stay updated on individuals' careers and plan their next steps with a clear timeline
Simplify management of salary changes or general raises
THE IDEAL SYSTEM FOR LOCAL AND INTERNATIONAL ORGANISATIONS
We chose Sympa because everything is safe in the system and it was easy to define who has access to what data.